Podcast: Building Organizational Capability
Posted on December 7, 2016 Comments (0)
The Software Process and Measurement Cast 420 features an interview with me, by Thomas Cagley, on Building Organizational Capability (download podcast).
John Hunter in the podcast:
Changing how organizations are managed makes a huge difference in people's lives, not all the time and I understand most of the time it doesn't. But when this is done well people can go from dreading going to work to enjoying going to work, not every single day – but most days, and it can change our lives so that most of the time we are doing things that we find valuable and we enjoy instead of just going to work to get a paycheck so we can enjoy the hours that we have away from work.
Here are some links where I go into more detail on some of the topics I discuss in the podcast:
Thomas Cagley: If you have the power to change any 2 things that affect decision making what would they be and why?
John Hunter:
First that results are evaluated. Make decisions then evaluate what actually happens based upon what you do. Learn from that, improve how you make future decisions and keep iterating.

That idea of evaluating what actually happens is extremely powerful and will reinforce going in the right direction because if you evaluate most decisions many organizations make nothing got any better. And after doing that many times you can learn this isn't working, we need to do something better.

And the second would be more prioritization. Make fewer decisions but take more time to make those decisions, implement those decisions, evaluate those decisions, learn from those results and iterate again.
I hope you enjoy the podcast.
Related: Software Process and Measurement Podcast With John Hunter on my book Management Matters – Deming and Software Development
Continually Improving Using a Focus on Delighting Customers
Posted on December 1, 2016 Comments (0)
ASQ asked the ASQ influential voices to respond to this question: What is the best way to ensure quality and customer integration grow together?
When I first got involved in the quality field that name (quality) seemed to vague for me. And different people and organizations seemed to have vastly different meanings in mind for efforts they all grouped under the heading of quality. What I came up with to capture what I was interested in was customer focused continuous improvement. Continual is actually a better word than continuous for what I had in mind, I now know.
But that phrase has held up in my mind (unfortunately it is a bit long and so isn't ideal either). Focusing on continually improving with a deep understanding of customer needs and the marketplace will do you well. Customer integration is required in the customer focused continual improvement framework I have discussed on this blog and in my book: Management Matters: Building Enterprise Capability.
Accepting that as a wise course of action leaves the question of how to continual improve with an integrated deep focus on customers. These shouldn't be two isolated activities. And even to continually improve without worrying about customers requires viewing the organization as a system is critical in my view (which further enhances integrating the customer into the organization's DNA). As anyone reading this blog knows my beliefs build on the work of W. Edwards Deming, so appreciating the importance of a systemic view is to be expected.
A deep appreciation for the long term needs of your customers and potential customers should guide where in the system to continually improve. And my belief on how to continual improve is to create and continually improving management system with principles of experimentation (with the necessary understanding of what conclusion can be drawn from results and what cannot), an understanding of the organization as a system and respect for people as principles to be guided by to achieve continual improvement.
Quality practices of experimentation directed at continually improving management practices and internal processes need to be completely integrated with the efforts to continual improve customer delight. Those efforts should be one process and therefore they automatically grow together.
Add Constraints to Processes Carefully
Posted on November 23, 2016 Comments (0)
Take great care in adding constraints to processes to avoid doing so needlessly.
Online you will frequently find forms that have required fields that needn't be. Certainly if you were designing with focus on what is best for customers those requirements rarely make sense. Occasionally a required field is a sensible constraint on an online form but so often they add unnecessary constraints.
I frequently find those forms even requiring a false answer since a response is required and none of the options are true. Often this is because the organization is thinking of the boxes they expect users to fit themselves into rather than thinking how to create the best user experience.
I wrote previously about a company representative that suggested a customer change their name because the computer system didn't accept names with 2 characters. Constraints on creating a secure password are a frequent failure of web sites for the last 10 years.
Man without arms denied housing loan due to inability to provide fingerprints
because Wu Jianping has no arms, creditors claimed they could not give him a loan since he was unable to be fingerprinted.
After the case was publicized and there was a great deal of negative publicity on social media the banks modified their process and approved the loan. But your organization shouldn't have as the mistake-proofing (obviously not mistake-proofing at all) that when the process doesn't quite work well then rely on a massive social media outcry which is a signal to us to straighten out the issue.
Frequently I see unnecessary constraints creating the edge case excuse. By burdening your process with unnecessary constraints your create edge cases that fail and then use the excuse that each of the edge cases is rare and therefore you can't justify the expense of fixing them.
But if you designed the process sensibly in the first place the edge case never would have failed and you wouldn't need special work arounds for such "edge cases." A simple example of this is unnecessarily complex web page code that fails if to submit a button without javascript. Yes, a small number of users won't have enabled all javascript to run (today anyway) so it is an "edge case" to deal with if you don't have the form work without javascript. But there is no decent reason to have it fail in most cases.
Bell Labs Designing a New Phone System Using Idealized Design
Posted on October 19, 2016 Comments (3)
I remember hearing this same story when Russ Ackoff spoke at the Hunter Conference on Quality (which was named in honor of my father) in Madison, Wisconsin.
If you haven't heard this story you are in for a treat. And if you haven't heard Russell Ackoff before you get to enjoy a great storyteller.
"Tape" of Ackoff's Bell Lab Lecture at the US Navy.
If you would limit yourself to paying attention to 5 thinkers to advance your understanding of managing organizations Ackoff should be one of them. Of course, many managers don't even try to learn from 5 leading management thinkers to do their jobs better over their career. So for many people just learning from Ackoff, Deming, Scholtes etc. they would be far ahead of the path they are now for their career. Of course you are not limited to learning from 5 people so you can learn from more if you want to be a better manager and leader.
I probably remember a great deal from maybe 5 talks from the more than 5 years I attended the Hunter Conference (and they were the best conferences I have attended – this might explain why the last conference I attended was maybe 7 years ago). This was one of them. And I realized that Ackoff was someone I could learn a great deal from and it caused me to learn a great deal from Russ Ackoff over the next decade.
Watch the video for much more but the basic idea of idealized design is to create a new design for a product, service or the organization based on existing feasibility but without the constraints of the existing setup. Then you can use that ideal to figure out a plan to move from the existing state to that idealized design. Russell Ackoff co-authored a good book on the topic: Idealized Design.
Related: Ackoff, Idealized Design and Bell Labs (2006) – Corporations Are Not Led By Those Seeking to Maximize Shareholder Value, Russ Ackoff – Transformation and Redesign at the White House Communications Agency – Russell L. Ackoff: 1919 -2009 – Dr. Russell Ackoff Webcast on Systems Thinking – Designing a New Organization (2005)
Burning Toast: American Health System Style
Posted on October 4, 2016 Comments (0)
Democrats and Republicans have created a health care system in the USA over the last 40 years that "burns toast" at an alarming rate. As the symptoms of their health care system are displayed they call in people to blame for burning toast.
Their participation in the "you burn, I'll scrape" system is even worse than the normal burning then scraping process. They create a bad system over decades and ignore the burnt toast just telling people to put up with it. And when some burnt toast can't be ignored any longer they then blame individuals for each piece of burnt toast.
They demand that those they bring before them to blame, scrape off the burnt toast. And they act shocked that the toaster burns toast. That is the same toaster they designed and maintain at the behest of those benefiting from burnt toast continues to burn toast.
We need to fix the decades old broken toaster that the Democrats and Republicans built and have maintained. Dr. Deming called excessive healthcare costs a deadly disease decades ago yet Democrats and Republicans allowed it to continue harming us year after year and decade after decade.
We don't need distractions blaming a few individual for what the two parties have created and maintained for decades. We need leaders to address the real issues and stop the distraction that those benefiting from the current system want to continue to see from those in Washington.
You don't fix the system if all you do is blame individuals for each piece of burnt toast. Fixing blame on each piece of burnt toast is exactly what those that have continued to make sure the system is designed to continually burn toast love to see. It is a good way to make sure the fixes needed to the design of the toaster are not addressed. Both political parties have done well by those they receive payments from to ensure that the current toaster isn't changed.
For decades the data shows the USA health care system costs are nearly double that of other rich countries with no better results. And we are not comparing to some perfect ideal, those efforts we compare to need much improvement themselves. So how bad much the USA health care system be to cost nearly twice as much as those systems that have plenty of room for improvement themselves?
Related: EpiPen Maker Also Hiked Prices on a Slew of Other Medications – USA Health-Care System Ranks 50th out of 55 Countries – Drug Prices in the USA, a system continually burning toast (2005) – USA Heath Care System Needs Reform (2009) – 2015 Health Care Price Report – Costs in the USA and Elsewhere
Lead by Building Organizational Capability
Posted on September 13, 2016 Comments (1)
The result of a recent interview with me has been posted: How to Lead From Any Level In the Organization
Hopefully you will find the entire post worthwhile.
More links related to interviews with me about improving management: Leadership While Viewing the Organization as a System, Business 901 Podcast Deming's Management Ideas Today, Meet-up: Management Improvement Leader John Hunter.
Applying Toyota Kata to Agile Retrospectives
Posted on August 23, 2016 Comments (0)
Håkan Forss, King (interactive entertainment games), presentation at the GOTO Copenhagen 2015 conference.
I strongly recommend Mike Rother's book: Toyota Kata.
Description from Workshop description "The Toyota Kata Experience"
Kata means pattern, routine, habits or way of doing things. Kata is about creating a fast "muscle memory" of how to take action instantaneously in a situation without having to go through a slower logical procedure. A Kata is something that you practice over and over striving for perfection. If the Kata itself is relative static, the content of the Kata, as we execute it is modified based on the situation and context in real-time as it happens. A Kata as different from a routine in that it contains a continuous self-renewal process.
I think the great number of worthwhile conference presentations we can all now get sitting wherever we are provides us a great opportunity (and lets us avoid missing out of good ideas because "How could they know").
A point made in the presentation that is very simple but still constantly the source of failure is that the current system isn't supporting improvement. Retrospectives are a good method to help improve but if there is no time to think about the issues raised and come up with experiments to improve and review of whether those experiments worked or not and why failure to improve is the expected result.
Creating a culture where it is expected that any improvement ideas are tested and evaluated is one of the most important changes on the path to a company that will be able to continually improve. If not, what happens is some changes are good, many are not and soon people lose faith that any effort is worth it because they see how poor the results are. By taking care to evaluate what is working and what isn't we create a process in which we don't allow ad hoc and unsuccessful changes to demoralize everyone.
Understanding Design of Experiments (DoE) in Protein Purification
Posted on August 4, 2016 Comments (0)
This webcast, from GE Life Sciences, seeks to provide an understanding Design of Experiments (DoE) using an example of protein purification. It begins with a good overview of the reason why multi-factorial experiments must be used while changing multiple factors at the same time in order to see interactions between factors. These interactions are completely missed by one-factor-at-a-time experiments.
While it is a good introduction it might be a bit confusing if you are not familiar with multi-factorial designed experiments. You may want to read some of the links below or take advantage of the ability to pause the video to think about what he says or to replay portions you don't pick up immediately.
I have discussed the value of design of experiments in multiple posts on this blog in the past, including: Introductory Videos on Using Design of Experiments to Improve Results by Stu Hunter, Design of Experiments: The Process of Discovery is Iterative and Factorial Designed Experiment Aim.
He also provides a good overview of 3 basic aims of multivariate experiment (DoE):
screening (to determine which factors have the largest impact on the results that are most important)
optimization (optimize the results)
robustness testing (determine if there are risks in variations to factors)
Normally an experiment will focus on one of these aims. So you don't know the most important factors you may choose to do a screening experiment to figure out which factors you want to study in detail in an optimization experiment.
It could be an optimized set of values for factors provides very good results but is not robust. If you don't have easy way to make sure the factors do not vary it may be worthwhile to choose another option that provides nearly as good results but is much more robust (good results even with more variation within the values of the factors).
Related: YouTube Uses Multivariate Experiment To Improve Sign-ups 15% (2009) – Combinatorial Testing for Software (2009) – Marketers Are Embracing Statistical Design of Experiments (2005)
Integrating Technical and Human Management Systems
Posted on July 6, 2016 Comments (2)
ASQ has asked the Influential Voices on quality management to look at the question of integrating technical quality and human management systems. How do different systems—technical or human—work together? How should they work together?
My view is that the management system must integrate these facets together. A common problem that companies face is that they bring in technical tools (such as control charts, PDSA improvement cycle, design of experiments, kanban, etc.) without an appreciation for the organization as a system. Part of understanding the organization as a system is understanding psychology within this context (as W. Edwards Deming discussed frequently and emphasized in his management system).
To try and implement quality tools without addressing the systemic barriers (due to the management system and specifically the human component of that system) is a path to very limited success. The failure to address how the organization's existing management system drives behaviors that are often counter to the professed aims of the organization greatly reduces the ability to use technical tools to improve.
If the organization rewards those in one silo (say purchasing) based on savings they make in cutting the cost of supplies it will be very difficult for the organization to optimize the system as a whole. If the purchasing department gets bonuses and promotions by cutting costs that is where they will focus and the total costs to the organization are not going to be their focus. Attempts to create ever more complex extrinsic incentives to make sure the incentives don't leave to sub-optimization are rarely effective. They can avoid the most obvious sub-optimization but rarely lead to anything close to actually optimizing the overall system.
It is critical to create an integrated system that focuses on letting people use their brains to continually improve the organization. This process doesn't lend itself to easy recipes for success. It requires thoughtful application of good management improvement ideas based on the current capabilities of the organization and the short, medium and long term priorities the organization is willing to commit to.
There are principles that must be present:
a commitment to treating everyone in the organization as a valuable partner
allowing those closest to issues to figure out how to deal with them (and to provide them the tools, training and management system necessary to do so effectively) – see the last point
a commitment to continual improvement, learning and experimentation
providing everyone the tools (often, this means mental tools as much as physical tools or even quality tools such as a control chart). By mental tools, I mean the ability to use the quality tools and concepts. This often requires training and coaching in addition to a management system that allows it. Each of these is often a problem that is not adequately addressed in most organizations.
An integrated management system with an appreciation for the importance of people centered management is the only way to get the true benefit of the technical tools available.
I have discussed the various offshoots of the ideas discussed here and delved into more details in many previous posts and in my book – Management Matters: Building Enterprise Capability. An article, by my father, also addresses this area very well, while explaining how to capture and improve using two resources, largely untapped in American organizations, are potential information and employee creativity. It is only by engaging the minds of everyone that the tools of "technical" quality will result in even a decent fraction of the benefit they potentially can provide if used well.
Unintended Consequences
Posted on June 29, 2016 Comments (1)
Using data to understand your processes and improve them is very useful.
But using data often results in unintended consequences. If you don't have a good understanding on the pressures collecting data will bring to bear on the system you can create pressure for results that damage the delivery of value to customers.
In this example there are requirements to take action if certain conditions are present. In this case, if the airplane is pushed back from the gate for more than 3 hours without taking off passengers must be given the opportunity to get off.
The Tarmac Delay Rule in 2010 has led to a jump in the rate of flight cancellations
Indeed, to avoid the fines, airlines are now far more likely to cancel flights that are sitting at the gate or on the tarmac than they once were, explains Vikrant Vaze, an assistant professor of engineering at Dartmouth and a co-author of the study. That means you're now more likely to board your plane, sit there, and then still have the flight canceled.
It doesn't seem the conditions imposed are unreasonable to me. But the expectation was for airlines to make sensible adjustments and not force customers to wait so long in the airplane sitting on the ground. The system could be improved by having more gates in operation, not pushing loading planes if you knew plane wasn't going to leave for more than 30 minutes, etc.. But when customer value is taken very lightly (as USA airlines do) it isn't surprising the USA airlines would take a very customer unfriendly method to avoid the issue that was the source of the new rules.
Distorting the system or distorting the data are often the result, instead of the process improvement that is desired and expected.
Related: Bad Weather is Part of the Transportation System – Poor Customer Service at USA Airlines – Data is Important and You Must Confirm What the Data Actually Says – United Breaks Guitars – Respect for Employees at Southwest Airlines
Support Theatre
Posted on June 21, 2016 Comments (2)
Support theatre provides the appearance of supporting customers when in fact it is just treating customers poorly based on a management system that disrespects customers. It is a similar idea to security theatre that has become so popular for government in the USA for the last 10 years.
Dilbert does a good job of illustrating "support theatre" in this webcast:
I have had the exact experience Dilbert does of tech support refusing to think about the actual symptoms of the problem and insisting on following some script and wasting my time – repeatedly. This is not some accident. Management has designed systems with the attitude that customer's time doesn't matter.
Companies that practices support theatre are usually very focused on cutting the companies cost and not "wasting" the companies time fixing the problems they create for customers or even helping customers put on "band-aids" to cope with the injuries the company has inflicted on the customer.
It is painful to interact with such companies. I find that most large companies I am forced to interact with are deeply into support theatre and only very superficially concerned with customers. It is a shame that the type of customer focus that those interested in management improvement have been advocating for decades is ignored by so many companies today.
If you care about your customers and want to build an organization that prospers by delighting customers go to the customer (user) gemba. Focus on how to improve the customer experience. You likely will have many easy opportunities to improve how things operate since the experience for customers today is often so bad.
Related: Making Life Difficult for Customers – Practicing Mistake-Promoting Instead of Mistake-Proofing at Apple – Customer Service is Important (2006) – Simple Customer Care Strategy: Communicate – Use Urls, Don't Use Click x, Then Click y, Then Click z Instructions – How to protect yourself from your credit card company – Verizon Provides Lousy Service = Dog Bites Man (2008) – Is Poor Service the Industry Standard? (2006) – Incredibly Bad Customer Service from Discover Card
Curious Cat Management Improvement Blog Ranking
Posted on June 1, 2016 Comments (1)
I created a ranking of top management improvement blogs for fun. There is no way to objectively rate blogs by how worthy or valuable they are. I just wanted to create a listing that ranked blogs I thought were worth reading using a collection of metrics that I think have some merit (even if that merit is fairly limited).
Here are the top 10 as of now (it will change over time):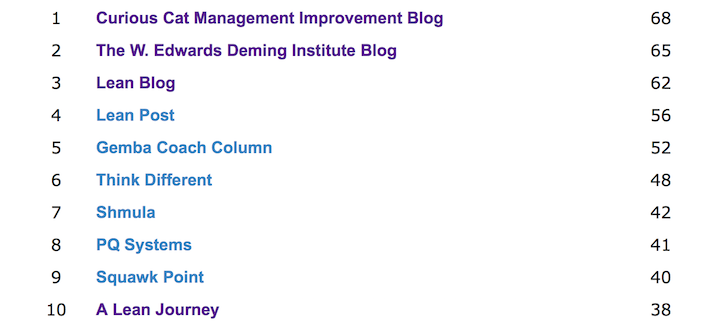 The most important factor is my selection of what blogs to include in the first place. Then I rank them using several other factors: link popularity (how many links to the sites, with more authoritative links carrying more weight), a subjective ranking by me, traffic (using an admittedly pretty flawed measure of traffic – but again this is just for fun so…), Twitter authority of the author, domain authority (based on links, not just to the blog, but the web site overall).
I have also created a ranking for personal travel blogs, leadership blogs and will add a few more.
I hope you enjoy the ranking and really hope you find a few new blogs you benefit from reading. There are quite a few interesting management improvement blogs, though honestly there are many fewer good posts than there were 5 years ago. Most of the best active blogs from 6 or 7 years ago are either much much less active today or are gone altogether. But even so there are still quite a few valuable blogs for managers to read.
Related: John Hunter blog honors – 6th Annual Curious Cat Management Blog Review – Curious Cat Blog Network
Acting Without Theory Often Results in Wasted Effort
Posted on May 25, 2016 Comments (1)
When you act without theory you can find yourself beating your head against the wall, in ways similar to this woodpecker bangs its head against this sign.
This bird may have copied the pecking behavior without understanding the theory. Pecking steel won't lead to it uncovering insects to eat. Alternatively, it may be pecking to make noise and attract a mate or tell other woodpeckers this territory is claimed. If mates and others acknowledge the metal pecking noises then the behavior may be rewarded (the noise is louder than pecking wood so it may even be an innovation with improved results), if not, the beating its bill against the sign is wasted effort.
If you don't understand why you take action you will find yourself wasting effort. You must have a theory that you can test in order to test what is working, what changes actually lead to improvement and to learn. If this bird wants to find food it will discover this method isn't effective.
I wrote about a similar example before: Experience Teaches Nothing Without Theory.
Related: We are Being Ruined by the Best Efforts of People Who are Doing the Wrong Thing – Effort Without the Right Knowledge and Strategy is Often Wasted – The Illusion of Knowledge
Software Testing and the Impact on Quality
Posted on May 9, 2016 Comments (1)
My response to a question on Reddit.
That statement is similar to the idea you can't inspect in quality. Basically "Inspection is too late. The quality, good or bad, is already in the product." W. Edwards Deming
I agree with those ideas. Software testing is a bit different (at least some of it is) from the inspection mentioned above. You are testing while the product is being developed and adjustments are being made before the product is released to customers. Also with internet based software you have the ability to update the software and now all users have that update. Where for physical devices they already have the product and the only option is a recall which is very expensive and often ignored.
Software testing however should pay attention to those points in the 2 links above (defects should be understood as evidence of a process that needs to be improved so defects are not built in the first place). What you want is not just to fix the bugs software testers catch but figure out the reasons those bugs were created and improve you process so you create fewer bugs in the future.
No matter what the software quality is based on the code that is written. At the best software testing can tell people about the bugs but unless the code is fixed the software quality didn't change. But to say that software testing doesn't have a big influence of software quality when testing is well done and the software development process is good (listens to feedback and improves) is not very accurate.
Related: Improving Software Development with Automated Tests – Combinatorial Testing for Software – Building a Great Software Development Team – Deming and Software Development – The Defect Black Market
Functional Websites are Normally Far Superior to Apps
Posted on April 23, 2016 Comments (0)
An email to I just sent to Uber
I understand the regular Uber app not having a functional website.

Uber Eats not having a functional website is super lame. It strikes me similar to Walmart 15 years ago telling people "we only have stores go to them, we just use the internet for advertising our stores." Today for Uber: we only have apps, "we only use the web for advertising our apps." Both you and Walmart want to use a limited function service that you both are comfortable with and want users to just put up with annoyance because neither of you want users using the connivence of the web.

When you bother to create a functional website maybe I'll use it (I use several food delivery services now).

Using limited apps is rarely wise (unless you are crippled by the lack of a real computer and are stuck having to use just an app). Uber cars is a rare exception where the needs are so simple a limited app is ok. Picking restaurants and food on a tiny screen with a crippled app is just a lousy experience for anyone that uses real websites. The Ux for the app is horrible.
Just like old school businesses were only comfortable with their old business models and didn't create functional websites (instead using the web just to advertise that you should go to their store, or giving you forms to complete and fax back to them…) new businesses are often stuck on only using apps even though they often provide a lousy user experience compared to a functional website.
There are some apps that are very useful and not having a functional web app can make sense, but it is fairly limited. Getting a ride apps I can see as only apps. Driving instructions and live maps using GPS to locate you is another great app use. Boarding passes can make sense (though I do question some of that whole process conceptually this could be a good example of a app with no functional website).
But most cases not having a functional website is just lousy Ux.
Now there are some times when using technology to provide good service just isn't worth the effort. Often though businesses just are stuck in their fax-thinking or physical-store-thinking or app-thinking and fail to use a technology that would provide great benefit to their users. I find it odd how often app vendors seem stuck in their app mindset. It wasn't so surprising old businesses that were not based on technology didn't take advantage of the incredible opportunities provided by the internet and the web. But it is less understandable when companies that are thought of as technology savvy are as blinded by their history (can't see out of the app-mindset).
Decades Later The USA Health Care System is Still a Deadly Disease for Our Economy
Posted on March 30, 2016 Comments (3)
Decades ago W. Edwards Deming named 7 deadly diseases of western management. One of those was excessive health care costs. Sadly that deadly disease has become much worse in the last several decades.
Americans pay 300% more for this prostate cancer drug than much of the rest of the world
This specific example also highlights what I classified as a new deadly disease in 2007 – the broken patent and trademark system.
Both of these deadly diseases greatly damage the USA economy and the economic condition of USA citizens. It is disgraceful that the Democratic and Repulbican parties have allowed these deadly diseases to ravage the USA economy for decades.
The drug price situation in the USA is greatly exsaserbated by the corrupt political process. Drug companies give large amounts of cash to those we elect and then those we elect create system that damage the USA economy and provide drug companies huge extra profits inside the USA (those profits then allow the companies to charge other countries even less and still make a great return on their investment). I wrote about this in 2005: Excessive Drug Prices in the USA (and several times since then, Drug Price Crisis [2008] – it is a long term, huge economic problem for the USA).
Health care is extremely expensive everywhere. But in the USA the health care system is twice as costly as other rich countries. This is an enormous burden on the USA economy. Nothing else comes close to being as costly in terms of direct spending. And there a a great deal of other damage done that can't be seen in just the 100% more the USA spends on health care than other rich countries spend. And the health outcomes are no better for the extra hundres of billions of dollars spent every year for health care in the USA.
The costs of decades of failure are extrodinary. We shouldn't allow the political parties to continue to fail to sensibly address these problems. Even if we can just get to the point of costing 50% more than other rich countries our economy will be greatly enhanced, but we have not even been able to reduce the health care tax the USA health care system puts on us to just 50% more than other countries. That is a pretty sad state of affairs especially when you consider that other countries are not doing a great job – so we are twice as costly, not as some extremely wonderful amazing system but twice as costly as mediocre comparisons.
Extremely inflatted drug prices in the USA are a significant part of the problem but still only a portion of a system that has been costly the USA economy and citizens hundreds of billions of dollars a year (and untold soffuering in many other ways) for decades. We have to do better.
Related: USA Health Care Spending 2013: $2.9 trillion $9,255 per person and 17.4% of GDP – The Growing Market for International Travel for Medical Care – CEOs Want Health-Care Reform (2009) – Can We Expect the Health Care System in the USA to Become Less Damaging to the Economy? (2011)
Giving Executives 40% of Revenue is Insane
Posted on March 21, 2016 Comments (0)
I have previous written on my belief that excessive executive compensation had reached the level of a deadly disease of western management (building on the W. Edwards Deming's list of 7 deadly diseases). I named excessive executive pay and a broken "intellectual property" system as new deadly diseases in 2007.
Here is a graphic from, It's Twitter's birthday, and its executives are getting huge stock-based gifts, showing the massive executive give-away at Twitter.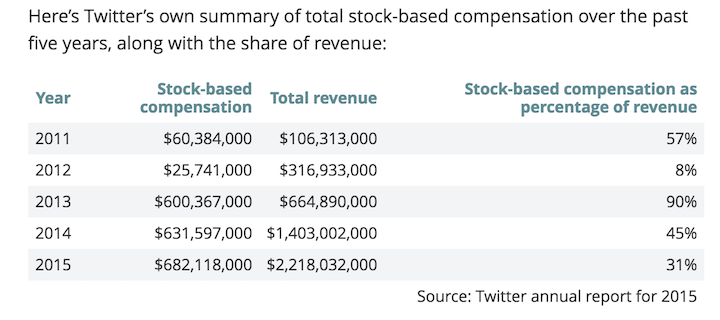 Twitter has given executives $2,000,000,000 in just stock based compensation from 2011 through 2015. Twitter's revenue for those 4 years was only $4,709,000,000. So Twitter gave executives 42.5% of revenue. This is of revenue, not earnings, Twitter isn't even profitable.
Granted this is an extremely bad case but this pattern of giving away hundreds of millions of dollars to executives is common. It is destructive. It is disrespectful. It is a stain on those participating in the looting of companies for the benefit of the executive bureaucrats – those that enable them to siphon off the returns generated by companies into their pockets.
Related: Toyota Post Record Profit: Splits $15 million in Pay and Bonus for top 21 Executives (2014) – Business 901 Podcast: Two New Deadly Diseases for Business (2013) – Massive Bonuses Encourage Executives to Take Massive Risks (leverage etc.)
Seek to Improve How You Learn, Don't Just Accept That You Can't Do Better
Posted on March 3, 2016 Comments (1)
As a speaker or coach or teacher it is wise to learn what impacts how people absorb information and learn. Factoring those ideas into how you communicate (one on one, coaching, training, presenting…) is wise.
Learning about how people learn and remember is important to allow you to communite well. And most people seem to understand this. But they also seem to have no shame in not improving their performance in relation to these common weaknesses.
I have never understood why so many people talk about weaknesses in how people learn (people only remember "10% of what they hear, 20% of what they read, and 80% of what they see and do"; you must repeat something 7,9,12… times before most people will remember it; people will retain more if they are given concrete examples relevant to them; people will remember more if they speak or write than if they just passively listen; a good visual will make an idea presented much more likely to be remembered…) but never seem to seek to improve their weaknesses in these areas.
Yes, it is harder for us to retain new information when we just hear about it or if good information is presented poorly. But if you do a much better job of learning and succeed in retaining what you hear or see (even if often people fail to do this well) you will be better off.
Yet what I see is people spouting these statistics, not as a way of learning what they need to improve themselves but as a way of explaining that it is inevitable and they won't do any better (or even bother to attempt to do so). It just isn't true that you can't do better. You can train yourself to learn more than most people when the material is presented in a less than perfect manner by learning how we commonly fail to learn and making efforts to do better yourself.
Sure, learn these common traits to know how you need to take them into account when communicating with others. But also examine yourself and see if you have the same weaknesses and improve in those areas you are weak. Also you can learn from them how to be more successful in retaining good ideas (write them down, think about applying them in your context, make a note to actually apply them at work tomorrow or next week…). You can blame whoever was communicating the ideas to you for failing to present it as well as they should but that won't help you learn more.
Also companies would be wise to put more effort into helping people learn better. I see lots of focus on how presenters should do better, but very little on how people can improve their capacity to listen and learn. Yes, those presenting should continually seek to improve and be aware of their customers (those they are communicating with). Those that are learning should also seek to improve their ability to learn, even if the way material is presented isn't optimal.
By the way, you might also want to question much of the claims of what people remember: Mythical Retention Data & The Corrupted Cone.
Related: Effective Communication is Explicit – Communicating Change – How Could They Know? They could learn about the job they were paid to do. –
A Powerful Tool for Learning: The Capacity Matrix
Transform the Management System by Experimenting, Iterating and Adopting Standard Work
Posted on January 19, 2016 Comments (0)
In this short video, Dr. John Toussaint describes how ThedaCare applied leadership standard work to create a successful management transformation. The changes to the management system were tested by applying standard work for all positions in 2 parts of the organization (including all senior management positions) and learning and adapting and then spreading the new methods to the rest of the organization.
Changes to the management system require the same testing and piloting of changes on a small scale as other process changes. Experiment by going an inch wide and a mile deep, iterate over PDSA cycles, and once we have a solution that works adopt it widely (the A in PDSA).
Related: Systemic Workplace Experiments – Transforming a Management System, A Case Study From the Madison Wisconsin Police Department – Transformation and Redesign at the White House Communications Agency – Culture Change Requires That Leaders Change Their Behavior – Standard Work Instructions – How To Create a Continual Improvement Culture
Most Popular Management and Leadership Quotes on Our Site in 2015
Posted on January 12, 2016 Comments (2)
These were the most popular quotes on the Curious Cat Management and Leadership Quotes web site in 2015 (based on page views). Follow the link on the quote text for the source and more information on the quote.