I have previous written on my belief that excessive executive compensation had reached the level of a deadly disease of western management (building on the W. Edwards Deming's list of 7 deadly diseases). I named excessive executive pay and a broken "intellectual property" system as new deadly diseases in 2007.
Here is a graphic from, It's Twitter's birthday, and its executives are getting huge stock-based gifts, showing the massive executive give-away at Twitter.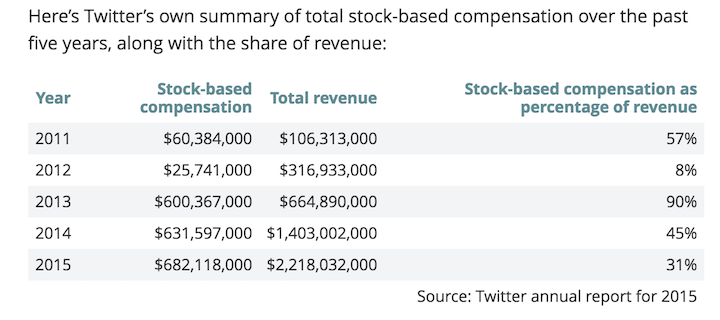 Twitter has given executives $2,000,000,000 in just stock based compensation from 2011 through 2015. Twitter's revenue for those 4 years was only $4,709,000,000. So Twitter gave executives 42.5% of revenue. This is of revenue, not earnings, Twitter isn't even profitable.
Granted this is an extremely bad case but this pattern of giving away hundreds of millions of dollars to executives is common. It is destructive. It is disrespectful. It is a stain on those participating in the looting of companies for the benefit of the executive bureaucrats – those that enable them to siphon off the returns generated by companies into their pockets.
Related: Toyota Post Record Profit: Splits $15 million in Pay and Bonus for top 21 Executives (2014) – Business 901 Podcast: Two New Deadly Diseases for Business (2013) – Massive Bonuses Encourage Executives to Take Massive Risks (leverage etc.)