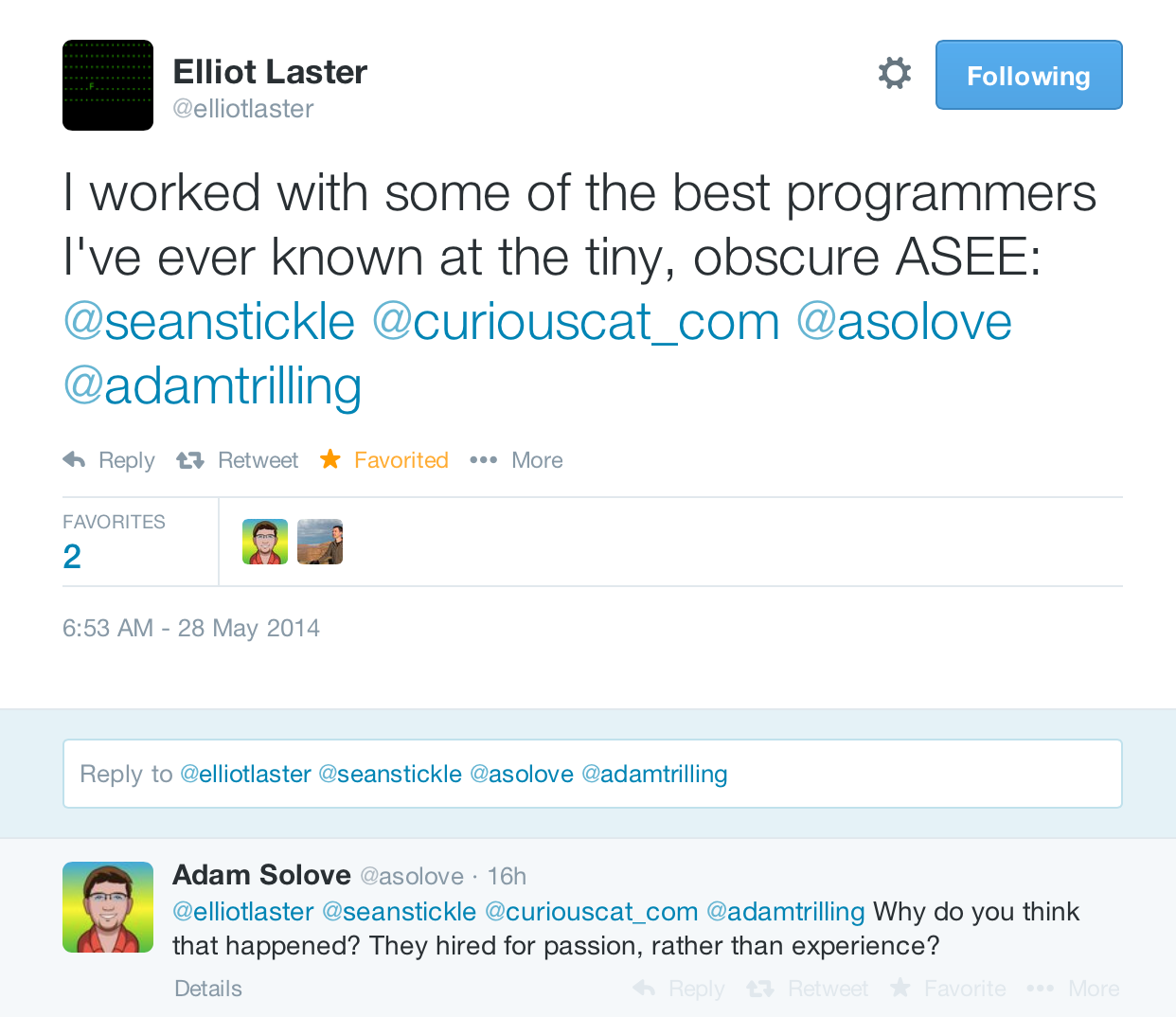 Elliot: I worked with some of the best programmers I've ever known at the tiny, obscure ASEE
Adam Solove: Why do you think that happened? They hired for passion, rather than experience?
If I had to pick one thing, passion would likely be it but really it is a complex assortment of things. Passion for the right things, based on what we aimed to be, mattered a great deal. That took the form of being passionate about the user experience, being passionate about good software development practices, being passionate about good software itself, being passionate about treating each other with respect, being passionate about learning and improving.
I think there were several other important factors, such as: the skill to turn a passion for good software into actual good software. This required intelligence, interest and knowledge about software development but didn't require specific experience (computer science degree, 2 years of Ruby on Rails development, certification or any such thing). Hiring based on experience is a big mistake. In my opinion hiring based on capability and potential (which is based partially on experience) is wise.
Another factor is that we had people (those first few hires were critical) that were really knowledgable about programing good software and that became a self reinforcing process. The gaps one person's ability and knowledge could be filled by someone else helping them understand and get better.
The expectation was that we found great solutions. If we didn't we kept looking and asked each other for help (another factor in creating a great team). We didn't just accept that we were confident the solution wasn't very good but couldn't find any better options so I guess this is the best we can do.
We were interested enough in good results that we would push for better options instead of just accepting something that was kind of ok. This shouldn't be such a big deal; but in practice it is huge. So many places just end up avoiding conflict to the extent that it is a huge detriment to results.
Without confidence, honest debate about ideas is suppressed as people are constantly taking things personally instead of trying to find the best ideas (and if doing so means my idea is criticized that is ok). Our group was great at this. It is something I find it a bit silly to say a workplace was "great" at but in most places I find the fear of someone being concerned stifles discussion to an unbelievable extent.
This is also one of many areas where the culture within the team was self reinforcing. As new people came on they understood this practice. They saw it in practice. They could see it was about finding good ideas and if their idea was attacked they didn't take it nearly as personally as most people do in most places. I sought to understand if people we looked at hiring would be comfortable in such an environment.