On Twitter today I was getting more than 30 times the notifications I normally get. So I took a look to see what is going on. One of my tweets was getting retweeted and liked quite a lot (nearly 100 times each, so far). I figure most likely someone with many more followers than I must have retweeted it.
A bit more investigation and sure enough that is what happened. Marc Andreessen had retweeted it. He has 432,000 followers (a bit more than my 1,600).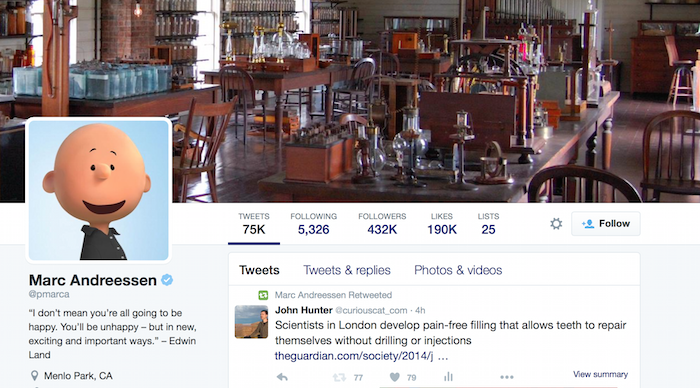 This minor internet enabled connection with fame is one of the fun aspects of the internet (to me anyway, I might be a bit odd). I emailed Tim Berners Lee (the creator of the world wide web) a long time ago (probably about 15 years – and I still remember) and received a nice reply. I have written a few posts on my science and engineering blog about his work over the years including a short post on the first web server (Tim's NeXT computer).
For those that don't know NeXT is the computer company Steve Jobs headed in between his stints at Apple. In 1999, I was giving a presentation at a conference on Using Quality to Develop an Internet Resource (link to my paper for the talk was based on). I was working for the Office of Secretary of Defense, Quality Management Office at the time. In cutting the time down I eliminated saying that the internet was created by the Department of Defense and giving a few sentences on that history as I figured everyone knew that history. After my presentation, one of the people that came up to talk and somehow I mentioned that history and the 3 people standing there didn't know it and were surprised. Anyway that NeXT comment reminded me of that story…
The tweet Marc Andreessen retweeted was about research by scientists in London that developed pain-free filling that allows teeth to repair themselves without drilling or injections.
Several people responded that we will never see this in use (based on the idea that announcements of research breakthroughs often fail to deliver). Quite a few people we looking forward to the day when it would be available though. Including some that were sitting in the dentist office while they were reading about it.