Toyota is receiving plenty of criticism now, much of it for good reason. There is also a large amount of psychology involved. From what I have seen, the insurance companies still see better claims history (fewer and lower cost claims) against Toyota than other manufacturers. And there is another strain that seems to enjoy criticizing what has been praised. Toyota does need to improve. But that is improvement of the existing management system, not a need to radically change the management of the company.
I think Toyota, even with the problems, is a fantastic example of a very well managed company. Yet even with all the study of lean manufacturing even basic ideas are overlooked. For example, the two main pillars of the Toyota way are "continuous improvement" and "respect for people." For all of us, it is valuable to refocusing on core principles. We are too often looking for the next new idea.
This is one way of looking at the pillars of the Toyota Production System, from the Toyota Technical Center – Austrailia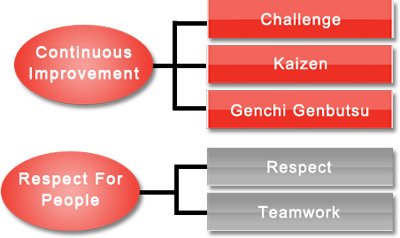 Continuous Improvement means that we never perceive current success as our final achievement. We are never satisfied with where we are and always improve our business by putting forth our best ideas and efforts: we are keen to create better alternatives, question our accomplishments and investigate future definitions of success.
There are three building blocks shaping our commitment to Continuous Improvement:
1. Challenge – we form a long term vision, meeting challenges with courage and creativity to realize our dreams;
2. Kaizen – we improve our business operations continuously, always driving for innovation and evolution
3. Genchi Genbutsu – we go to the source to find the facts to make correct decisions, build consensus and achieve goals.
Respect For People refers to our own staff as well as the communities and stakeholder groups that surround us and we are part of. We respect our people and believe the success of our business is created by individual efforts and good teamwork.
Respect For People is translated in:
1. Respect – we respect others, make every effort to understand each other, take responsibility and do our best to build mutual trust
2. Teamwork – we stimulate personal and professional growth, share the opportunities of development and maximize individual and team performance.
These elements combined define our corporate DNA, provide a way of operating that is recognised by each and every Toyota-member around the globe and enables us to sustain our success in the future.
Back to Basics for Toyota by Akio Toyoda
When my grandfather brought Toyota into the auto business in 1937, he created a set of principles that has always guided how we operate. We call it the Toyota Way, and its pillars are "respect for people" and "continuous improvement." I believe in these core principles. And I am convinced that the only way for Toyota to emerge stronger from this experience is to adhere more closely to them.
While recent events show Toyota obviously needs to improve, that has been true all along (it is just more obvious lately). Some may see this as an indication that these lean manufacturing ideas based on Toyota's practices are no better than other management practices. I don't believe this. I feel just as strongly about the value of lean management as ever. I think that the recent events show you that no matter how well an organization in managed there is plenty of room to improve. Toyota never was close to perfection. They have much to improve, but they are still one of the best managed companies in the world.
I think the instances of such failures are just a sign that even Toyota still has quite a bit to improve. I think this announcement likely is a result of
common cause variation
(it is the natural result of the current system). The natural result (of the system) is not that they have this particular failure, but that this recall is consistent with the % of vehicles that required a recall of this general character. I believe they are getting better over time but they still have a long way to go. With a result based on common cause you want to look at the entire system when designing an improvement plan not at the root cause of the seat belt issue. See
Responding to Variation
online and the book,
Forth Generation Management
, by Brian Joiner.
Related: Toyota Stops Lines – Lots of Lines – Akio Toyoda's Message Shows Real Leadership – Deming Companies – Respect for People Does Not Mean No Criticism
And my comments in 2007:
I don't agree that they need to rethink their purpose in life (I have a feeling that is taken out of context). They need to maintain and maybe even increase their commitment to their purpose in life.