Topic: Statistics, Six Sigma, Management Improvement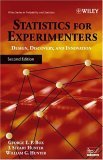 Data files for Statistics for Experimenters: Design, Innovation, and Discovery , 2nd Edition by George Box, Stu Hunter and Bill Hunter, are available online.
We maintain on online resource for those using Statistics for Experimenters. Visit the page to find resources, or to let us know about resources (data sets, exercises, etc.) for those using the book.
Google Scholar results for the book.