Interview on PDSA, Deming, Strategy and More
Posted on May 8, 2014 Comments (2)
Bill Fox interviewed me and has posted part one of the interview on his web site: Predicting Results in the Planning Stage:
Another response:
See the full interview for more details and other topics. I think it is worth reading, of course I am a bit biased.
Related: more interviews with John Hunter – Interviews with John Hunter on his book: Management Matters – Deming and Software Development – Lean Blog Podcast with John Hunter
More Evidence of the Damage Done by Kleptocrat CEO Pay
Posted on April 21, 2014 Comments (1)
I have been writing about the problems of overpaid executives that has lately become so bad that verbiage understand the nature of the problem. Today I see many CEO's are acting as kleptocrats do – taking food out of others mouths to build their castles. The damage done to everyone else involved is of no concern. Both groups love bankers that flood them with cash for new and larger castles at the expense of the futures of their company (or country).
This paper does a very good job of providing more evidence of the damage done by these kleptocrat CEOs and their apologists.
Are Top Executives Paid Enough? An Evidence-Based Review by Philippe Jacquart and J. Scott Armstrong
Our review of the evidence found that the notion that higher pay leads to the selection of better executives is undermined by the prevalence of poor recruiting methods. Moreover, higher pay fails to promote better performance. Instead, it undermines the intrinsic motivation of executives, inhibits their learning, leads them to ignore other stakeholders, and discourages them from considering the long-term effects of their decisions on stakeholders. Relating incentive payments to executives' actions in an effective manner is not possible. Incentives also encourage unethical behaviour. Organizations would benefit from using validated methods to hire top executives, reducing compensation, eliminating incentive plans, and strengthening stockholder governance related to the hiring and compensation of executives.
Many of the problems with the poor thinking around executive pay stem from the failure to grasp ideas Dr. Deming wrote about decades ago.
Executives are often evaluated on the basis of the success or failure of the business units for which they are responsible. In practice, many internal and external factors influence outcomes for firms, and assessing the role played by a given executive is not possible. For example, should a manager get credit for a firm's success when the economy is booming or blame for the firm's losses during a recession? When answering such questions, evaluators are biased toward ignoring contextual factors and overly attributing outcomes to leaders. This bias was illustrated in a laboratory experiment in which groups of participants had to solve a coordination task. In the experiment, group size varied, and participants could perceive that the task was harder when the group was larger. Despite this, participants credited group leaders for the success of small groups and blamed them for the failure of large groups (Weber et al. 2001).
The quote from their paper show a failure to understand variation (attributing variation to those near the variation at the time – good marks when the variation is good, bad marks when it is bad). And a failure to understand the organization as a system (the results of any subsystem are greatly influenced by the whole system and the conditions outside the system (the economy, the macro-economic conditions for the industry…). And a failure to understand the theory of knowledge: people should know our brains leap to causation explanations when the evidence doesn't support it. Then confirmation bias and psychology lead us to accept the data that supports our biases.
Nonexperimental studies also find that increases in CEO compensation occur following increases in firm performance that result from factors beyond the CEO's control—CEOs are paid for being lucky. For example, CEOs in the oil industry were compensated for increased profits resulting from fluctuations in the price of crude oil—a factor beyond their control (Bertrand and Mullainathan 2001).
You see this just looking at the money heaped onto executives (in addition to the already huge payments taken) in industries whenever those industries (not individual companies, the entire industry) have macro-economic windfalls.
Innovative Thinking at Amazon: Paying Employees $5,000 to Quit
Posted on April 15, 2014 Comments (1)
Amazon continues to be innovative not just in technology but with management thinking. Jeff Bezos has rejected the dictates espoused most vociferously by Wall Street mouthpieces and MBAs that encourage short term thinking and financial gimmicks which harm the long term success of companies.
Most CEOs and executives are too fearful or foolish to ignore what they are told they must do because Wall Street demands it. CEO's and boards often ratchet up the poor management thinking by tying big bonuses to financial measures which are much more easily achieved by gaming the system than by improving the company (so companies get the games there boards encouraged through their financial extrinsic motivation focus).
Amazon does many good things focused on making Amazon a stronger company year after year. These innovative management practices seem to largely be due to the thinking of the strong willed founder and CEO: Jeff Bezos. Jeff was smart enough to see the great things being done at Zappos by Tony Hsieh and bought Zappos.
Jeff Bezos has added his letter to shareholders to Warren Buffett's (for Berkshire Hathaway) as letters worth reading each year. In the latest Amazon letter he includes many worthwhile ideas including:
The first point reinforces Dr. Deming's words encouraging companies to do exactly that – pay for education even if it wasn't related to the work the employee was doing or would do for the company. Still quite rare decades after Deming's advice.
Toyota Understands Robots are Best Used to Enhance the Value Employees Provide
Posted on April 8, 2014 Comments (0)
Toyota has always seen robotics as a way to enhance what staff can do. Many USA executives think of robotics as a way to reduce personnel. Toyota wants to use the brainpower of employees to continually improve the organization. Toyota wants to free people for monotonous or dangerous work to let them use their minds.
Humans Steal Jobs From Robots at Toyota
Humans are taking the place of machines in plants across Japan so workers can develop new skills and figure out ways to improve production lines and the car-building process.
…
"We cannot simply depend on the machines that only repeat the same task over and over again," Kawai said. "To be the master of the machine, you have to have the knowledge and the skills to teach the machine."

Kawai, 65, started with Toyota during the era of Taiichi Ohno, the father of the Toyota Production System envied by the auto industry for decades with its combination of efficiency and quality. That means Kawai has been living most of his life adhering to principles of kaizen, or continuous improvement, and monozukuri, which translates to the art of making things.

"Fully automated machines don't evolve on their own," said Takahiro Fujimoto, a professor at the University of Tokyo's Manufacturing Management Research Center. "Mechanization itself doesn't harm, but sticking to a specific mechanization may lead to omission of kaizen and improvement."
We need more companies to learn from the executives at Toyota. They show real respect for people. They are not focused on how much they can extract from the corporate treasury to build themselves castles at the expense of other employees, customers and stockholders as far too many USA executives are.
Toyota has been extremely innovative in investing in robotics as human assistants (partially this is due to the extreme demographic problems Japan faces): Toyota Develops Thought-controlled Wheelchair – Toyota's Partner Robot – Toyota Winglet – Personal Transportation Assistance.
Related: Webcast on the Toyota Development Process – Don't Hide Problems in Computers – Akio Toyoda's Message Shows Real Leadership
Steve Jobs on Quality, Business and Joseph Juran
Posted on March 31, 2014 Comments (1)
This webcast shows an interesting interview with Steve Jobs when he was with NeXT computer. He discusses quality, business and the experience of working with Dr. Juran at NeXT computer. The video is likely from around 1991.
I agree with this thought, and while we have made some progress over the decades since this was recorded there is a long way to go (related: complacency about our contribution the USA has received from science and engineering excellence – when you were as rich as the USA was in the 1950s and 1960s more and more people felt they deserved to be favored with economic gifts without effort (forgetting the basics as Jobs mentioned) – Silicon Valley Shows Power of Global Science and Technology Workforce). After World War II the USA was able to coast on an economic bubble of extreme wealth compared to the rest of the world for several decades (and the economic success built during that period even still provides great advantages to the USA). That allowed wealthy living conditions even without very good management practices in our businesses.
The importance of customer focus is obvious at the companies Jobs led. It wasn't a weak, mere claim of concern for the customer, it was a deep passionate drive to delight customers.
Analysis Must be Implemented by People to Provide Value
Posted on March 25, 2014 Comments (0)
Guest Post by Bill Scherkenbach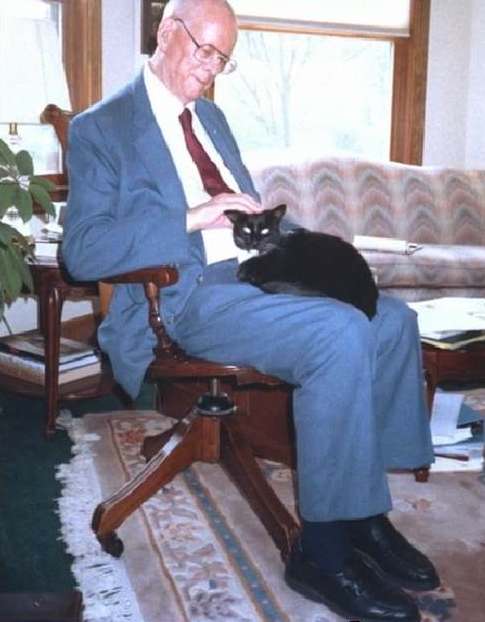 Every time I look at this picture, I think of Dr. Deming's words to drive out fear and take joy in your work. We were talking in my home office when Sylvester saw a good lap and took it. Our conversation immediately shifted when both Dr. Deming and Sylvester started purring.
The greatest statistical analysis is nothing if it can't be implemented by people. But people learn in different ways. Some like good stories, others like pictures. Only a few like equations. Dr. Deming always liked a good laugh; and a good purr.
By what method do you get your analyses implemented?
Bill Scherkenbach taught with Dr. Deming at the Deming 2 day seminars and received the Deming Medal and the author of several books on Deming management principles.
Related: How to Get a New Management Strategy, Tool or Concept Adopted part 1 and part 2 – Getting Known Good Ideas Adopted – Respect People by Creating a Climate for Joy in Work – Playing Dice and Children's Numeracy
Deming and Software Development
Posted on March 17, 2014 Comments (1)
I am sometimes asked about how use Deming's ideas on management in a software development context. My belief is Deming's ideas work extremely well in a software development context. The main issue is often unlearning some assumptions that people might have about what the Deming management system is.
It really is surprising to me how many "knowledge workers" respect Deming ideas but then say his attempts to treat factory workers as thoughtful people who should be respected and involved in improving their processes doesn't make sense for them because they are "knowledge workers."
There are many good things being done to improving the software development process. I think many of them are very Deming-like in their approaches (but to me miss out on aspects of the Deming management system that would be helpful). I think Dr. Deming's approach to software development would focuses on the system of profound knowledge (the 4 inter-related areas below):
Understanding variation – software development has quite a bit of variation, some probably innate [unique work] and some due to not having good procedures, batching work, not fixing problems right when they are seen, quick fixes that leave the system venerable in the long term (when you make one simple change to the code it has an unanticipated consequence due to poor practices that could have been eliminated), etc.. Many good coding practices are effective strategies to deal with this issue. And building an understanding of variation for managers (and business process owners/product owners) is very helpful to the software development process. The ideas in agile and kanban of focusing on smaller delivery units of work (one piece flow, just in time, cycle time…), customer value, maintainable code, sustainable work conditions, etc. are directly found in a Deming management system.
Appreciation for the system of software development. Don't just complain about bugs. Examine the process of development and then put in place mistake proofing efforts (don't duplicate code, use integrated regression tests, don't put artificial constraints on that result in system distortions – unrealistic targets…). Use things like kanban, limited work in progress, delivering value to customers quickly, think of success in terms of getting working software to customers (not meeting internal delivery goals), etc. that take into account our experience with systemic software development problems over the decades.
Theory of knowledge – how do we know what we know? Are estimates reliable? Lets look at what users do, not just what they say (A/B testing…). Software developers often appreciate the value of usability testing, even though they rarely work for organizations willing to invest in usability testing. In my experience when software developers object to usability testing it is normally really an objection to overwork, and the usability testing is just going to give them more work or criticize things they were not allowed to spend the time they needed to do great work. That won't always be the reason but it is the main one in my experience (I suppose their is also fear and just the psychology of not wanting to hear anything negative about what has been created – even if the usability testing shows tons of great results people will often focus on the negative).
psychology and respect for people – This pretty much seems like it is the same for software development as everywhere else.
Kleptocrat CEOs and Their Apologists
Posted on March 10, 2014 Comments (2)
I am disgusted by the lack of ethical and moral fiber of CEO's (along with their cronies and apologists) in the USA. This lack comes out in many ways (see all the scandals at the too-big-to-fail banks etc.) but the problem I am upset about now is the increasingly commonplace kleptocrat behavior.
CEOs, and their cronies, were well paid decades ago. As their greed about their pay got to be unethical Peter Drucker started to speak out against their ethical failures. As those abuses became more extreme he increased his objections.
What Peter Drucker railed against was minor compared to the ethical meltdowns we allow in those serving in executive positions today.
Bloomberg study on What CEOs are Taking From Corporate Treasuries
These CEOs act like kleptocrat dictators, taking what they can and challenging anyone to do anything about it. As with the kleptocrats they surround themselves with apologists and spread around the looting (from corporate treasuries for the CEO and the countries for the dictators) to those that support their kleptocrat ways.
Extremely Excessive Executive pay is so critical I classify it as a New Deadly Disease. I have discussed the problems created by allowing such morally and ethically bankrupt people in leadership positions: CEO's Taking What They Don't Deserve (2011) – CEOs Plundering Corporate Coffers (2008) – Tilting at Ludicrous CEO Pay (2007). In 2005 I spelled out some of the problems we face when we have kleptocrats running our companies:
Manufacturing Outlook and History In the USA and Globally
Posted on February 27, 2014 Comments (1)
I write primarily about management improvement on this blog – which makes sense given the title. In the very early days I had more on investing, economic data, science, engineering and travel. Then I created three new blogs (Curious Cat Investment and Economics Blog, Curious Cat Science and Engineering Blog, Curious Cat Travel Photos blog) and that made this blog more focused.
Even so the lines of what fits where can be a bit fuzzy and I continue to write about manufacturing, and health care, with a focus on economic data, occasionally. And that is what I am doing today while touching on management related to manufacturing a bit.
As I have written before the story of manufacturing in the USA, and globally, is greatly increased quality of processes and output as well as greatly improved productivity over the last few decades. Manufacturing output also increased, including in the USA, as I have written consistently for a decade now. For example: (Top 10 Countries for Manufacturing Production from 1980 to 2010.
Still many people have the notion that USA manufacturing has been declining, which hasn't been true, and certainly isn't true now (the last couple of years have been especially strong and even the general public seems to realize the idea of the USA losing manufacturing is a myth).
The chart is impressive and illustrates the point I have been hammering home for years. The USA manufacturing base is growing and far from crumbling (job losses are deceiving as they are global and not an indication of a USA manufacturing decline). China's manufacturing growth is incredible. China and the USA are far away the top 2 manufacturing countries. Japan and Germany make out the top 4 before a large gap which then is followed by a group of countries that are very close (Korea is 5th with less than half the production of Germany).
Poor Results Should be Addressed by Improving the System Not Blaming Individuals
Posted on February 6, 2014 Comments (2)
My response to: Where is the Deming study that asserts most errors are in organization or process?
There is no such study, it is based on Dr. Deming's experience as I discuss in 94% Belongs to the System (improve the system, don't blame the people in the system).
"I should estimate that in my experience most troubles and most possibilities for improvement add up to the proportions something like this: 94% belongs to the system (responsibility of management), 6% special."
Page 315 of Out of the Crisis by W. Edwards Deming
Getting hung up on the figure 94% is a mistake. His point was that you improve performance going forward by improving the system not blaming people. His two books provide background and the thought process involved behind why we are failing to manage better. Changing the people, while leaving the system in place, most often doesn't help.
Variation does confuse people sometimes. The same mistake as say yelling at someone any time results are really bad. Most likely results will get better. Not because yelling helps but essentially regression to the mean. So you can move people out after really bad results and things get better. Of course, most of the time they would have gotten better if you left the people there (and did nothing or yelled).
Even when the person did totally mess up, why did the system allow that? Why did the system put that person in a place where they were not qualified? Answering and fixing these types of questions would help improve the system and the results going forward.
Yes, occasionally the answer might be that Joel was hired sensibly, managed and coached sensibly but he just became a complete jerk and won't respond to coaching and this is only his fault. But normally that won't be the case, even when the person seems nearly totally to blame (and that isn't even a very common situation – normally there are obvious weaknesses in the system that put them in the place to fail and will likely put anyone else in the same place in the future).
Related: Firing Workers Isn't Fixing Problems – People: Team Members or Costs – Create a System That Lets People Take Pride in Their Work – Find the Root Cause Instead of the Person to Blame
6th Annual Curious Cat Management Blog Review
Posted on January 30, 2014 Comments (1)
Each of the participants post reviews of several blogs on their blog. Links to all the 2013 Management Blog Review posts are listed below, ordered by the number of years each author has participated in the annual review.
| | | |
| --- | --- | --- |
| 2013 Hosts | Years | Blog reviews |
| Evolving Excellence | 6 | Timeback, Matthew May, HBR: Brad Power |
| Lean Reflections | 5 | Deming Institute blog, MIX |
| TimeBack Management | 5 | Michel Baudin, Manufacturing Leadership Center, The Lean Thinker |
| QAspire | 4 | Squawk Point, Jesse Lyn Stoner, Jamie Flinchbaugh |
| A Lean Journey | 3 | Beyond Lean, Lean Pathways, Old Lean Dude |
| Beyond Lean | 3 | Lean Blitz, Personal Kanban |
| Lessons in Lean | 2 | Gemba Panta Rei, The Drucker Exchange |
| encob blog | 2 | Lean Post, Gemba Coach |
| Michel Baudin | 2 | The Lean Edge |
| Lean Blitz | 1 | Lean Blog, Karen Martin, Quality and Innovation, Let's Talk About Quality |
Only 3 blogs have been reviewed in all 6 years: Evolving Excellence, Gemba Panta Rei and Timeback Management.
Related: 2012 Management Blog Review – 2011 Management Blog Review – 2008 Management Blog Review
Bad Weather is Part of the Transportation System
Posted on January 6, 2014 Comments (4)
The job of managers is to create a robust system that delivers value to customers. A system that fails constantly (fails during the continual variation the system faces) is a failed system. Bad weather is part of the variation airlines face. Any management system has to cope with the variation that it faces. The management system must be designed and managed so that the organization successfully delivers value to customers under the conditions the organization will face.
The air travel system in the USA is a disgrace for so many reasons it is hard to catalogue them all. One, of many, is how fragile the system is; causing massive (nation-wide) customer harm multiple times a year due to weather. Weather is sometimes bad. If your organization fails when there is bad weather, fix that problem (make your system robust in the face of bad weather), because you are not going to be able to fix the weather to let your un-robust system be effective as it is.
Instead airlines only response seems to be to get their friends in government to approve anti-competitive mergers to eliminate competition and allow failed organizations to become even larger and harm even more people. Airlines should design robust systems that work in the environment they will face (which they don't do now).
Their planes don't fall out the sky when they face bad weather. The engineers behind designing planes have made them very robust. Pilots have been trained to handle variation they will face. And yes, the system has been designed with adjustments to avoid flying into conditions that are risky.
The safety of the air transportation system is very good. The management of airlines in most every other aspect is pitiful, and has been for decades.
The managers running the airlines have done amazingly bad job of creating robust organizations capable of delivering given the variation they know they will face (weather, mechanical problems, IT problems, etc.) for decades. Poor management is the cause of these failures that result in harm to customers. Weather is not the cause. Poor management, over decades, resulting in incredible fragile systems that constantly punish customers is the responsibility of the airlines. And they have done an incredibly bad job at creating a robust system to deliver value to customers.
Curious Cat Management Improvement Carnival #202
Posted on December 1, 2013 Comments (1)
The Curious Cat management blog carnival has been published since 2006. New posts are published once or twice a month. I also publish a collection management improvement articles on the Curious Cat management improvement articles site.
Taking Risks Based on Evidence
Posted on November 14, 2013 Comments (1)
My opinion has long been that football teams are too scared to take an action that is smart but opens the coach to criticism. So instead of attempting to make it on 4th down (if you don't understand American football, just skip this post) they punt because that is the decision that is accepted as reasonable.
So instead of doing what is wise they do what avoids criticism. Fear drives them to take the less advantageous action. Now I have never looked hard at the numbers, but my impression is that it is well worth the risk to go for it on 4th down often. In a quick search I don't see a paper by a Harvard professor (this article refers to it also – Fourth down: To punt or to go?) on going for it on 4th down but I found on by a University of California, Berkeley economist (David Romer wrote called "Do Firms Maximize? Evidence from Professional Football.").
On the 1,604 fourth downs in the sample for which the analysis implies that teams are on average better off kicking, they went for it only nine times. But on the 1,068 fourth downs for which the analysis implies that teams are on average better off going for it, they kicked 959 times.
My guess is that the advantages to going for it on 4th down are greater for high school than college which is greater than the advantage for the pros (but I may be wrong). My guess is this difference is greater the more yardage is needed. Basically my feeling is the variation in high school is very high in high school and decreases with greater skill, experience and preparation. Also the kicking ability (punting and field goals) impacts the choices of going for it on 4th down and that dramatically increases in college. So if I am correct, I think pro coaches should be more aggressive on 4th down, but likely less aggressive than high school coaches should be.
But in any event the data should be explored and strategies should be tested.
Jiro Dreams of Sushi
Posted on November 5, 2013 Comments (3)
Jiro Dreams of Sushi is a documentary on a Japanese sushi restaurant, Sukiyabashi Jiro, that is full of great quotes for those interested in continual improvement. Throughout the film people discuss a never ending focus on doing better and better – never becoming complacent.
Quotes from Jiro Dreams of Sushi:
Jiro: "Once you decide on your occupation you must immerse yourself in your work. You have to fall in love with what you do… You must dedicate your life to mastering your skill. That is the secret of success and the key to being regarded honorably."
Jiro: "There is always room for improvement."
Jiro: "I do the same thing over and over, improving bit by bit."
Jiro: "I feel ecstasy every day. I love making sushi."
Fish seller: "When you think you know it all, you then realize you are just fooling yourself."
Food critic ~ "when you work for Jiro he teaches you for free. But you have to endure years of training.
​Apprentice: "But there is only so much you can learn from words. I have to keep practicing."​
Jiro: ~ (paraphrased and changed a bit) "When the fish gets to me the sushi is 95% complete. I prepare it in front of the customer so get the credit but the truth is the person doing the least work gets most of the credit"
Jiro's eldest son, Yoshikazu: "Always strive to elevate your craft."
The focus is on the dining experience in total. The meal is composed of elements that are designed to work together with the focus on quality of the individual dishes but also on the interaction between the individual items and the complete experience.
The respect for suppliers is also seen in the film. Jiro's eldest son says (approximately) "we are experts at sushi and we know a great deal but the tuna vendor we use knows more about tuna, the shrimp vendor knows more about shrimp… we trust them." Later Jiro says (again from my memory), "we buy our rice from our vendor because Mr. ___ (I can't remember the name) knows more about rice than anyone else, I trust him to provide what is best for us."
They even touch on the bigger picture. Jiro's son: "overfishing is the problem. Finding good fish is getting harder and harder… There should be regulations enforced on only catching bigger fish. Business should balance profit with preserving natural resources."
As with any example there are particulars that you can learn from and specifics that don't apply well to your situation. I know next to nothing about kitchens of world class restaurants but what I do know is they seem extremely dedicated to their work (much more so than many other organizations are interested in striving for). They also seem to be more autocratic than most other modern organizations. They also seem much more focused on perfecting the process to achieve the best result even if that requires a great deal more work than some alternative that produces very good results.
Related: You've Got to Find What You Love (Steve Jobs Stanford address) – Respect People by Creating a Climate for Joy in Work – Positivity and Joy in Work – The Customer is the Purpose of Our Work
Management Improvement Carnival #201
Posted on November 1, 2013 Comments (1)
The Curious Cat Management Improvement Carnival has been published since 2006. The carnival, has been published twice a month – but will now be published once or twice a month depending on how things work out. I hope you find the post included in this edition interesting and find some new blogs to add to your blog/RSS reader. Follow John Hunter online: Twitter and elsewhere.
Resources for Using the PDSA Cycle to Improve Results
Posted on October 28, 2013 Comments (2)
Using the PDSA cycle (plan-do-study-act) well is critical to building a effective management system. This post provides some resources to help use the improvement cycle well.
I have several posts on this blog about using the PDSA cycle to improve results including:
The authors and consultants with Associates for Process Improvement have the greatest collection of useful writing on the topic. They wrote two indispensable books on the process improvement through experimentation: The Improvement Guide and Quality Improvement Through Planned Experimentation. And they have written numerous excellent articles, including:
Related: Good Process Improvement Practices – The Art of Discovery (George Box) – Planning requires prediction. Prediction requires a theory. (Ron Moen)
Managers Are Not Non-Leaders: Managers Need to Practice Things We Classify as Leadership Traits
Posted on October 14, 2013 Comments (3)
Saying "Managers care about efficiency and leaders care about effectiveness" is like saying "Doctors care about theory and nurses care about patients."
Managers that don't care about effectiveness are lousy managers.
Leaders that don't care about the gemba are lousy leaders.
Doctors that don't care about patients are lousy doctors.
Nurses that don't care about theory are lousy nurses.
Your role in the organization (and for the particular situation in question) and training and the situation will impact how you contribute. But the attitude that leaders are visionaries that think big thoughts, make decisions then tell everyone what to do (act as the brain for the organization) is outdated. Every list of what traits are for leaders that then contrasts them with managers that I have seen shows leadership traits managers need.
Seeking to separate leadership and management is a bad idea. If you want to have a few leadership traits that you want to focus on at various points (creating engagement, communicating a vision, building consensus, setting organizational direction) that is fine. But those things are traits managers need; they are not traits reserved for some separate leadership cadre.
And disconnected leaders that don't understand the organization, the organizations customers etc. are not going to lead well (normally the contrast lists have the managers doing all the hands on stuff, at the gemba, with customers etc.). Nurses may not have as complete an understanding of the theories behind medical treatment decisions but they need to know a great deal of theory to do their jobs well. Everyone contributes and has different roles to play but I don't see value in the contrast of leaders and managers mentality.
From what I have seen mainly the manager v. leader comparisons seem to be about belittling managers and elevating leaders; but leaders are this vague concept that isn't well defined. Who are these leaders? Are they only senior executives? They can't be managers because you are contrasting them with managers – by the contrasting model used they can't be leaders and managers.
How to Sustain Long Term Enterprise Excellence
Posted on October 3, 2013 Comments (1)
This month Paul Borawski asked ASQ's Influential Voices to explore sustaining excellence for the long term.
There are several keys to pulling sustained long term excellence. Unfortunately, experience shows that it is much easier to explain what is needed than to build a management system that delivers these practices over the long term. The forces pulling an organization off target often lead organization astray.
Each of these concepts have great deal more behind them than one post can explain. I provide some direct links below, and from those there are many more links to more valuable information on the topics. I also believe my book provides valuable additional material on the subject – Management Matters: Building Enterprise Capability. Sustained long term excellence is the focus of the book. A system that consistently provides excellent performance is a result of building enterprise capability over the long term.
Related: Distorting the System, Distorting the Data or Improving the System – Sustaining and Growing the Adoption of Enterprise Excellence Ideas in Your Organization – Managing to Test Result Instead of Customer Value – Good Process Improvement Practices – Change is not Improvement – Managing Our Way to Economic Success Two Untapped Resources by William G. Hunter – Software Process and Measurement Podcast With John Hunter – Customer Focus by Everyone
Management Improvement Carnival #200
Posted on October 1, 2013 Comments (2)
The Curious Cat Management Improvement Carnival has been published since 2006 and this is the 200th edition. The posts selected for the carnival focus on the areas of management improvement I have focused on in the Curious Cat Management Improvement Guide since 1996 (17 years now, which I find pretty amazing): Deming, lean thinking, leadership, innovation, respect for people, customer focus, etc..