Magnetic White-Board Kanban Card Options
Posted on September 2, 2014 Comments (0)
Just some quick ideas for Kanban whiteboard magnetic card options from a question I answered on Reddit.
Here is the best lean solution: Trying Out My Agile Kanban Board from Jon Miller.
Why, well mainly I am kidding about it being the best, but if you don't read his Gemba Panta Rei blog you should! Go add it to your RSS feed reader, before you continue with this post.
Ok, welcome back. In addition to thinking his blog is great the solution from his blog is very flexible and easy – though it isn't quite a packaged solution (as asked for on Reddit). Also that post provides some good insight into the thinking behind the board (as well as how to create your own).
More links with kanban board options: Magnetic whiteboard cards (50-pack) – Physical Taskboards – I think just magnetic symbols (not magnetic white board card) but could use magnet with icon to stick paper to the board
Another silly site, that sells some sort of solution, blocked my access because they don't sell in the country my computer reported being located in. So I didn't give them a free plug (assuming their product was decent which it might be?). Very dumb design if you ask me; well even though you didn't ask, I told you anyway.
Localization that impedes users rather than helping them seems far far too common in my experience. Mapping (and related – find closest…) uses are about the only localization stuff I find useful – country based localization I nearly always find annoying or crippling. And showing my location on a map is totally awesome (especially as I travel around as a tourist – or really in whatever capacity). Such bad design and poor usability decisions cost companies money.
Related: Visual Management with Brown M&Ms – Making Data Visible – Deming and Software Development
Revolutionary Management Improvement May Be Needed But Most Management Change is Evolutionary
Posted on August 26, 2014 Comments (1)
This month the ASQ Influential Bloggers were asked to respond to the question – will the future of quality be evolutionary or revolutionary?
I think it has been and will continue to be both.
Revolutionary change is powerful but very difficult for entrenched people and organizations to actually pull off. It is much easy to dream about doing so.
Often even revolutionary ideas are adopted in a more evolutionary way: partial adoption of some practices based on the insight provided by the revolutionary idea. I think this is where the biggest impact of W. Edwards Deming's ideas have been. I see him as the most revolutionary and worthwhile management thinker we have had. But even so, few organizations adopted the revolutionary ideas. Most organizations nibbled on the edges and still have a long way to go to finally get to a management system he was prompting 30,40 or more years ago.
A few organizations really did some revolutionary things based on Deming's ideas, for example: Toyota. Toyota had some revolutionary moves and adopted many revolutionary ideas brought forward by numerous people including Taichii Ohno. But even so the largest impact has been all those that have followed after Toyota with the lean manufacturing strategies.
And most other companies have taken evolutionary steps from old management paradigms to adopt some new thinking when trying out lean thinking. And frankly most of those efforts are so misguided or incredible small they barely qualify. But for those that successfully improved their management system they were mainly evolutionary.
Out of Touch Executives Damage Companies: Go to the Gemba
Posted on August 20, 2014 Comments (0)
When your customer service organization is universally recognized as horrible adding sales requirements to customer service representatives jobs is a really bad practice. Sadly it isn't at all surprising to learn of management doing just that at our largest companies. Within a system where cash and corruption buys freedom from market forces (see below for more details) such practices can continue.
Such customer hostile practices shouldn't continue. They shouldn't be allowed to continue. And even though the company's cash has bought politically corrupt parties to allow such a system to survive it isn't even in the selfish interest of the business. They could use the cover provided by bought-and-paid-for-politicians-and-parties to maintain monopolistic pricing (which is wrong ethically and economically but could be seen as in the self interest of a business). But still provide good service (even while you take monopolistic profits allowed with corrupt, though legal, cash payments).
Of course, Adam Smith knew the likely path to corruption of markets made up of people; and he specifically cautioned that a capitalist economic system has to prevent powerful entities efforts to distort markets for individual gain (perfect competition = capitalism, non-competitive markets = what business want, as Adam Smith well knew, but this is precisely not capitalism). Sadly few people taking about the free-market or capitalism understand that their support of cronyist policies are not capitalist (I suppose some people mouthing those words are just preaching false ideas to people known to be idiots, but really most don't seem to understand capitalism).
Anyway, this class of protected businesses supported by a corrupt political and government (regulators in government) sector is a significant part of the system that allows the customer hostility of those politically connected large businesses to get away with a business model based on customer hostility, but wasn't really what I meant to write about here.
Comcast executives have to know they are running a company either rated the worst company in the country or close to it year after year. They, along with several others in their industry, as well as the cell phone service providers and too-big-to-fail-banks routinely are the leaders of companies most reviled by customers. Airlines are also up their for treating customer horribly but they are a bit different than the others (political corruption is much less of the reason for their ability to abuse customers for decades than is for the others listed above).
Leaked Comcast employee metrics show what we figured: Sell or perish [Updated]
Training materials explicitly require a "sell" phase, even in support calls.
The company's choice to transform what is traditionally a non-revenue-generating area—customer service—into a revenue-generating one is playing out with almost hilariously Kafkaesque consequences. It is the nature of large corporations like Comcast to have dozens of layers of management through which leadership instructions and directives are filtered. The bigger the company, the more likely that members of senior leadership (like Tom Karinshak) typically make broad policy and leave specific implementations to lower levels.

Here, what was likely praised in the boardroom as an "innovative" strategy to raise revenue is instead doing much to alienate customers and employees alike. Karinshak's assurances that he doesn't want employees to feel pressured to sell in spite of hard evidence that Comcast demands just that are hard to square with the content of the document.
So what is going on here? Most people can easily see this is likely a horrible practice. It is a practice that a well run company theoretically could pull off without harming customers too much. But for a company like Comcast to do this it is obviously going to be horrible for customers (same for all those too-big to fail banks, cell phone service providers and other ISPs and cable TV providers).
Lets just pretend Comcast's current leadership executives were all replaced with readers of the Curious Cat Management Improvement blog. And lets say that for now you are suppose to focus on improving the policies in place (while thinking about policy changes for later but not making them yet).
Use Urls – Don't Use Click x, Then Click y, Then Click z Instructions
Posted on August 14, 2014 Comments (1)
In the 1980s software applications had to use click x, then click y, then click z type instructions to get you to a specific location in a software application (or at least they had a decent excuse to do that). Too many web application development organizations forget that they now have urls to direct people exactly where to go: and that they shouldn't rely on ancient "click here, then there, then in that other place" type instructions.
Here is an example I wrote up on my recent experience with iTunes and their failure to do this properly: Bad iTunes Ux and How to Submit a Podcast to iTunes. I see it all the time, that is just one example.
It is so sad that Google can't even offer mildly decent help for their own software nearly a couple decades after they started out with the goal to organize the world's information. And lots of other software companies also point you to clicking around various gui (graphical user interface) click paths instead of just
showing the url (say in a help email) – instead of the gui click path text
a clickable link to the url in web documents
On top of the waste inherent in click path instructions they often fail because the interface has changed and no one bothered to change the click path or the click path depends on other things being a certain way and they are not so the click path breaks.
I really can't comprehend how this usability failure is something I run across all the time. Urls are not some secret idea only PhD computer scientists have heard of. This is super basic stuff – click path instructions should never have been acceptable for any web application. It is pitiful they are still common among companies that see themselves as advanced software development organizations.
Using the proper urls also will help make sure you are using human readable urls. Another super basic usability concept that is ignored far too often by some web application developers.
Related: Usability, Customer Focus and Internet Travel Search – Making Life Difficult for Customers – Practicing Mistake-Promoting Instead of Mistake-Proofing at Apple – Password Gobbledygook Instruction (more bad usability) – What I Would Include in a Redesigned Twitter Profile (2014)
Vision can be a Powerful Driver but Most Often It is Just a Few Pretty Words
Posted on July 29, 2014 Comments (0)
This month Bill Troy, the new CEO of ASQ, asked ASQ's Influential Voices to explore the value of vision to the success of organizations.
An aim for the organization is extremely helpful when it allows everyone in the organization to be guided by the same vision. But nearly all the time, in my experience, the aim is printed in the annual report and posted on the web site an used in some speeches but has nothing to do with how the organization operates.
When the vision is merely a pretty collection of words that doesn't drive decisions and behavior it is pointless. When it does drive behavior it is powerful. Sadly that is rarely the case.
As is so often the case, Russell Ackoff, has provided a good quote on the idea: If we are going to talk about values, we got to talk about what the values are in action, not in proclamation.
Marketers understand the value of creating a vision in customers minds about your organization. They often do this quite well. Sadly organizations often are not managed with that vision in mind. If you believe the vision of your marketing then make sure your organization has embraced those principles.
Related: The Customer is the Purpose of Our Work (beautiful quote on the wall, not what I experience as the customer though – We are ladies and gentlemen serving ladies and gentlemen – Hallmark Building Supplies – Purpose Drives Decisions (see 3rd video excerpt)
Children are Amazingly Creative At Solving Problems
Posted on July 8, 2014 Comments (2)
This story at NPR reminded my of Russell Ackoff talking about the creativity kids show in solving problems* – and how school often stifles that creativity.
Preschoolers Outsmart College Students In Figuring Out Gadgets
To those, like me, that use Deming's ideas to help understand and improve management it is apparent these findings relate directly to two areas of Deming's management system: psychology and theory of knowledge (how we know what we know).
Understanding how our psychology limits are effectiveness can be used to counter those tendencies.
And as Daniel Boorstin said:
"The greatest obstacle to discovery is not ignorance – it is the illusion of knowledge."
Understanding the limits of our knowledge and our tendency to become rigid in our thinking can help us avoid blinding ourselves to options. Our brains overrule options without us consciously even knowing that is happening; it takes effort to overcome this tendency.
The Benefits of Blogging
Posted on July 3, 2014 Comments (0)
ASQ interviewed me, and several other ASQ Influential Voices bloggers for an article published in the current issue of Quality Progress magazine: The Blog Boom.
A couple of my quotes from the article:
See the whole article to see the rest of my responses and thoughts from Mark Graban, Jennifer Stepniowski, Jimena Calfa and Daniel Zrymiak. The article is available for free, though you do have to register to view that article (registering will also let you view the other articles ASQ has made available to non-members).
Related: Blogging is Good for You (2006) – Your Online Presence (2007) – Your Online Identity (2007) – Curious Cat Blogs (management, investing, travel, engineering, technology…)
Gerald Suarez on Creating the Future
Posted on June 25, 2014 Comments (3)
I was lucky enough to be hired by Gerald Suarez to work for him at the White House Military Office. The webcast below is speech he gave at TedX Loyola Marymount.
The illusion of knowledge is more dangerous that ignorance.
Without the proper foundation for planning for the future (contemplation and desire),
our design will be incomplete. It will be like trying to build a house with no foundation. We become addicted to shallow metrics of success where more and bigger is better.
In talking to a senior executive at a Fortune 500 company about a promotion to VP that the executive doesn't want to take because of all that accepting the VP position would require.
I see similar situations and most of the time people "chose" career without much thought. They don't think they have options. I am traveling around China now after presenting a seminar for The W. Edwards Deming Institute in Hong Kong.
I decided I didn't want to spend my life working "9 to 5." There are tradeoffs. It sure is nice having a nice paycheck every 2 weeks without much risk. But control of my life mattered more. My choice is more extreme than most. But I believe people need to consciously question what they want out of life and make those choices by considering their options. Too many people don't take the time to realize they have many more choices than they ever consider.
Gerald quotes a very apt Turkish proverb
No matter how long you have been on the wrong road, turn back.
This is often hard, and gets harder the longer we are on the wrong road. Sunk costs often pull us in the direction of continuing on the path we invested so much in. It makes all the sense to turn back if it is the wrong path, but our psychology often makes it hard to act in that way.
Gerald's book, Leader of One: Shaping Your Future through Imagination and Design, was just released.
Related: Transformation and Redesign at the White House Communications Agency (WHCA) Better Thinking About Leadership – Think Long Term, Act Daily – Build an Environment Where Intrinsic Motivation Flourishes – Dr. Russell Ackoff Webcast on Systems Thinking
Root Cause, Interactions, Robustness and Design of Experiments
Posted on June 18, 2014 Comments (1)
Eric Budd asked on The W. Edwards Deming Institute group on LinkedIn
If observed performance/behavior in a system is a result of the interactions between components–and variation exists in those components–the best root cause explanation we might hope for is a description of the interactions and variation at a moment in time. How can we make such an explanation useful?
A single root cause is rare. Normally you can look at the question a bit differently see the scope a bit differently and get a different "root cause." In my opinion "root cause" is more a decision about what is an effective way to improve the system right now rather than finding a scientifically valid "root cause."
Sometimes it might be obvious combination which is an issue so must be prevented. In such a case I don't think interaction root cause is hard – just list out the conditions and then design something to prevent that in the future.
Often I think you may find that the results are not very robust and this time we caught the failure because of u = 11, x = 3, y = 4 and z =1. But those knowledge working on the process can tell the results are not reliable unless x = 5 or 6. And if z is under 3 things are likely to go wrong. and if u is above 8 and x is below 5 and y is below 5 things are in trouble…
To me this often amounts to designing systems to be robust and able to perform with the variation that is likely to happen. And for those areas where the system can't be made robust for some variation then designing things so that variation doesn't happen to the system (mistake proofing processes, for example).
In order to deal with interaction, learn about interaction and optimize results possible due to interactions I believe the best method is to use design of experiments (DoE) – factorial experiments.
George Box Webcast on Statistical Design in Quality Improvement
Posted on June 11, 2014 Comments (0)
George Box lecture on Statistical Design in Quality Improvement at the Second International Tampere Conference in Statistics, University of Tampere, Finland (1987).
Early on he shows a graph showing the problems with American cars steady over a 10 years period. Then he overlays the results for Japanese cars which show a steady and significant decline of the same period.
Those who didn't get to see presentations before power point also get a chance to see old school, hand drawn, overhead slides.
He discusses how to improve the pace of improvement. To start with informative events (events we can learn from) have to be brought to the attention of informed observers. Otherwise only when those events happen to catch the attention of the right observer will we capture knowledge we can use to improve. This results in slow improvement.
A control chart is an example of highlighting that something worth studying happened. The chart will indicate when to pay attention. And we can then improve the pace of improvement.
Next we want to encourage directed experimentation. We intentionally induce informative events and pay close attention while doing so in order to learn.
Every process generates information that can be used to improve it.
He emphasis the point that this isn't about only manufacturing but it true of any process (drafting, invoicing, computer service, checking into a hospital, booking an airline ticket etc.).
He then discussed an example from a class my father taught and where the students all when to a TV plant outside Chicago to visit. The plant had been run by Motorola. It was sold to a Japanese company that found there was a 146% defect rate (which meant most TVs were taken off the line to be fixed at least once and many twice) – this is just the defect rate before then even get off the line. After 5 years the same plant, with the same American workers but a Japanese management system had reduced the defect rate to 2%. Everyone, including managers, were from the USA they were just using quality improvement methods. We may forget now, but one of the many objections managers gave for why quality improvement wouldn't work in their company was due to their bad workers (it might work in Japan but not here).
He references how Deming's 14 points will get management to allow quality improvement to be done by the workforce. Because without management support quality improvement processes can't be used.
With experimentation we are looking to find clues for what to experiment with next. Experimentation is an iterative process. This is very much the mindset of fast iteration and minimal viable product (say minimal viable experimentation as voiced in 1987).
There is great value in creating iterative processes with fast feedback to those attempting to design and improve. Box and Deming (with rapid turns of the PDSA cycle) and others promoted this 20, 30 and 40 years ago and now we get the same ideas tweaked for startups. The lean startup stuff is as closely related to Box's ideas of experimentation as an iterative process as it is to anything else.
Related: Ishikawa's seven quality control tools
He also provided a bit of history that I was not aware of saying the first application of orthogonal arrays (fractional factorial designs) in industry was by Tippett in 1933. And he then mentioned work by Finney in 1945, Plackett and Burman in 1946 and Rao in 1947.
The Education System
Posted on June 8, 2014 Comments (1)
The current topic for ASQ Influential Voices to address is the importance of the education system and the impact on the capability of employees.
The education system is important and not very good in my opinion. As a kid I found it boring and constraining and a system designed more to extinguish my quest for knowledge than increase my desire to learn. As a kid I was told by adults that adults knew better and I shouldn't complain.
I was told "don't you realize you are in one of the best school systems in the USA?" With a bit of data I was convinced that seemed likely. To me this seemed like an even more ominous sign. If the best was this bad what was everything else like?
The argument that made the most sense to me (for why I should be happy with, or at least accept, the lousy system I was stuck in) was that as a kid I probably just didn't understand why this environment that seemed to bore not just me, but most all the kids around me and this system that crushed our desire to learn must somehow be working otherwise the adults would certainly fix it.
As an adult what I find is my thoughts as a kid were essentially completely correct (except that last one that adults wouldn't stick with some pitiful system without good reason) and plenty of education experts had been saying the same things. Adults seem perfectly fine not adopting proven better education practices just as they are fine not adopting proven better management practices.
When Dr. Deming was asked what to do instead of performance appraisal, when he railed against performance appraisal, he said do "whatever Peter Scholtes says." To the question of what we should we do about the education system I say do whatever David Langford and Alife Kohn say.
I know more about the specifics of what educational systems following David Langford's idea are like, and all I can say is they are wonderful. If I had kids I would definitely consider moving somewhere that had such a system (like Leander, Texas where they have been moving down that path for 20 years). They focus on helping student learn in a way that is so much more sensible than the one I had to sit through and most everyone reading this had to sit through.
The percentage of students that graduate with a desire to keep learning from an educational system like Leander is much greater than the traditional path. My high school had more National merit scholars than any public high school in the USA the year I graduated (some prep schools beat us, but only a few – partially because we were so large and they are often small). We had many students that were smart, dedicated and capable of succeeding at prestigious universities. Of course with tons of University of Wisconsin faculty as parents this is not a very surprising result.
Practicing Mistake-Promoting Instead of Mistake-Proofing at Apple
Posted on June 5, 2014 Comments (4)
Mistake proofing is a wonderful management concept. Design systems not just to be effective when everything goes right but designing them so mistakes are prevented.
I have had several bad customer experiences in the short time I have had my iPad mini. One of the most pitiful is caused by mistake-promoting process design. As the name implies that isn't a good idea. Mistake-proofing processes is a good practice to strive for; processes that create extra opportunities for failure impacting customers negatively are a bad idea.
My experience below is but one mistake-promoting practice that has caught me in its grips in the short time I have owned my iPad mini. I want to view books on the mini but can't find any book reader. So I decide, fine I'll just install the Kindle reader app.
I go to do so (run into additional issues but get through them) and then Apple decides for this free app, on an iPad I just bought with my credit card a week ago, to block me from getting what I need and force me to revalidate my credit card. This is lame enough, but I am used to companies not caring about the customer experience, so fine, what hoops does Apple want to force me through?
But guess what, the unnecessary steps Apple decided to force me through are broken so I can't just waste my time to make them happy. No. They have created a failure point where they never should have forced the customer in the first place.
So they not only didn't mistake-proof the process they mistake-promoted the process by creating a unnecessary step that created an error that could have been avoided if they cared about mistake proofing. But instead they use a mistake-promoting process. As a consumer it is annoying enough to cope with the failures companies force me through due to bad management systems that don't mistake proof processes.
Companies creating extra opportunities to foist mistakes onto customers is really something we shouldn't have to put up with. And when they then provide lousy and then even incomprehensible "support" such the "change your name" vision Apple decided to provide me now it is time to move on.
After 5 years of buying every computing device from Apple, they have lost my entire good will in one week of mess ups one after the other. I knew the reason I moved to Apple, the exceptional Macbook Air, was no longer the unmatched hardware it once was; but I was satisfied and was willing to pay a huge iPad premium to avoid the typical junk most companies foist on you. But with Apple choosing to make the process as bad as everyone else there isn't a decent reason to pay them a huge premium.
Toyota Post Record Profit: Splits $15 million in Pay and Bonus for top 21 Executives
Posted on June 2, 2014 Comments (1)
After posting record profits of $17.9 billion Toyota proposes to increase the pay and bonus for the top 21 executives to $14.9 million. That is not as you might expect just the increase in the bonus to the CEO. That is the entire pay and bonus for the top 21 executives. That places all 21 together below the top 50 CEO paydays in the USA.
Toyota's net income for the year surged 89.5%. While the profits are partially due to good management at Toyota the decline in value of the yen also great aided results.
Management Pockets A 19% Raise As Toyota Racks Up Records Profits
Toyota proposed 1.52 billion yen ($14.9 million) in combined compensation and bonuses to 21 directors, including President Akio Toyoda, in a notice to shareholders Tuesday. The Toyota City, Japan-based company paid 1.28 billion yen the previous fiscal year.
By comparison, total pay for union workers increased 8.2 percent on average from last fiscal year. The carmaker granted the union's request for workers' average bonus to rise to 2.44 million yen, the equivalent of 6.8 months of salary.
The company forecasts a 2% slip in net profit to $17.5 billion for 2015.
Toyota continues to generate cash flow extremely well and has over $20 billion in cash at the end of their 2014 FY. They are also increasing the dividend to stockholders and buying back more stock.
Less than a handful of USA CEOs that is took more from their companies treasuries than all 21 off the Toyota leaders take together led their company to greater earnings than Toyota (only a few companies earned more: Apple, Google, Exxon…). The thievery practiced by senior executives in the USA is immoral and incredibly disrespectful to the other workers at the company and the stockholders.
ExxonMobil did earn more and their CEO took $28.1 million. I think Chevron and Wells Fargo may have earned more than Toyota with a CEOs taking $20.2 and $19.3 million respectively.
Alan Mulally, Ford CEO, took $23.2 million while the company earned $7 billion. If you can ignore his massive and disrespectful taking what he doesn't deserve he has been an acceptable CEO in other ways.
Building a Great Software Development Team
Posted on May 29, 2014 Comments (1)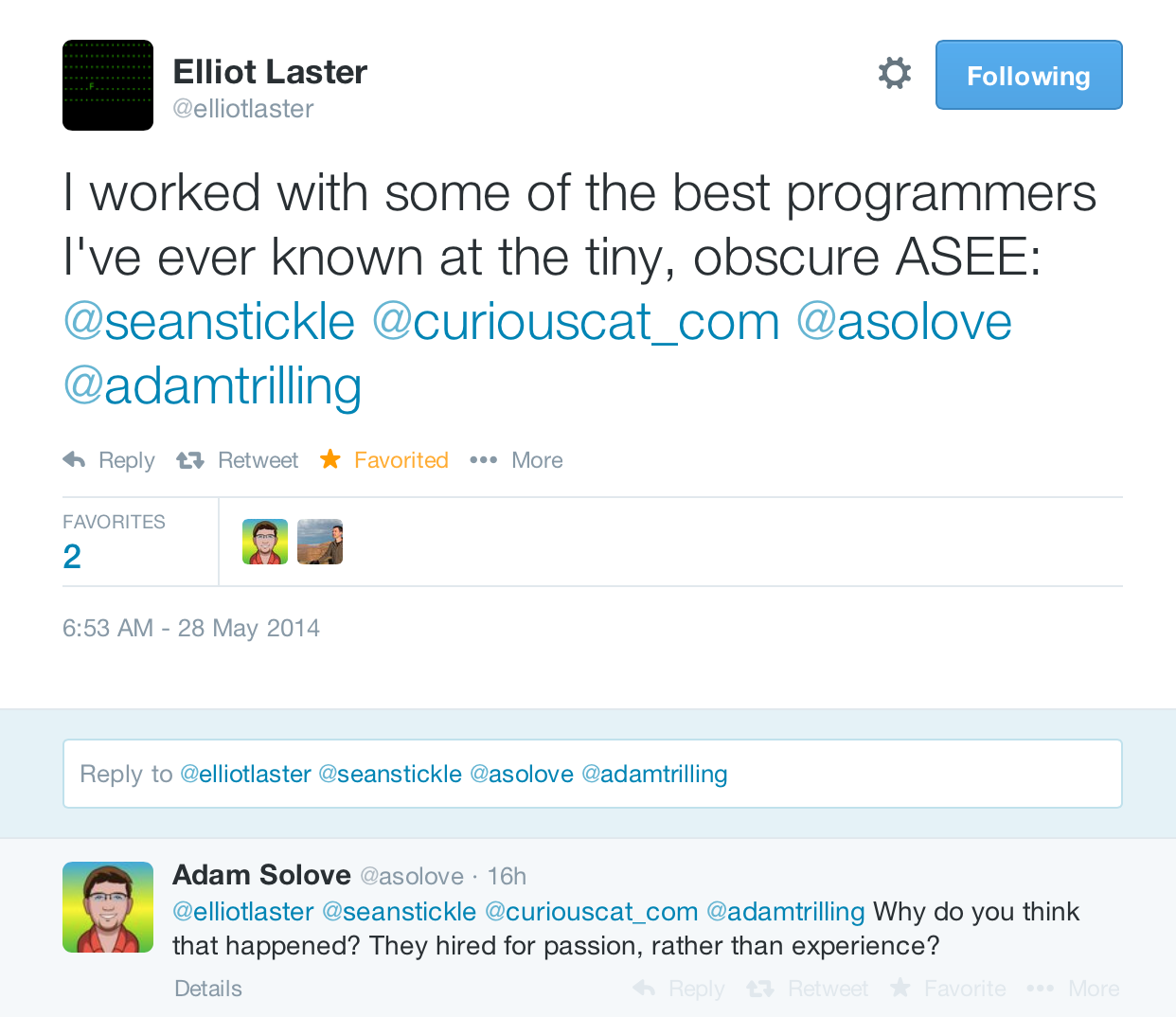 Elliot: I worked with some of the best programmers I've ever known at the tiny, obscure ASEE
Adam Solove: Why do you think that happened? They hired for passion, rather than experience?
If I had to pick one thing, passion would likely be it but really it is a complex assortment of things. Passion for the right things, based on what we aimed to be, mattered a great deal. That took the form of being passionate about the user experience, being passionate about good software development practices, being passionate about good software itself, being passionate about treating each other with respect, being passionate about learning and improving.
I think there were several other important factors, such as: the skill to turn a passion for good software into actual good software. This required intelligence, interest and knowledge about software development but didn't require specific experience (computer science degree, 2 years of Ruby on Rails development, certification or any such thing). Hiring based on experience is a big mistake. In my opinion hiring based on capability and potential (which is based partially on experience) is wise.
Another factor is that we had people (those first few hires were critical) that were really knowledgable about programing good software and that became a self reinforcing process. The gaps one person's ability and knowledge could be filled by someone else helping them understand and get better.
The expectation was that we found great solutions. If we didn't we kept looking and asked each other for help (another factor in creating a great team). We didn't just accept that we were confident the solution wasn't very good but couldn't find any better options so I guess this is the best we can do.
We were interested enough in good results that we would push for better options instead of just accepting something that was kind of ok. This shouldn't be such a big deal; but in practice it is huge. So many places just end up avoiding conflict to the extent that it is a huge detriment to results.
Without confidence, honest debate about ideas is suppressed as people are constantly taking things personally instead of trying to find the best ideas (and if doing so means my idea is criticized that is ok). Our group was great at this. It is something I find it a bit silly to say a workplace was "great" at but in most places I find the fear of someone being concerned stifles discussion to an unbelievable extent.
This is also one of many areas where the culture within the team was self reinforcing. As new people came on they understood this practice. They saw it in practice. They could see it was about finding good ideas and if their idea was attacked they didn't take it nearly as personally as most people do in most places. I sought to understand if people we looked at hiring would be comfortable in such an environment.
Cognition: How Your Mind Can Amaze and Betray You
Posted on May 27, 2014 Comments (0)
The webcast above is from the excellent folks at Crash Course. This webcast provides another view into the area of Deming's management system on the theory of knowledge (the one most people forget), how we know what we know and how that belief isn't always right.
Two of the four components of Dr. Deming's management system were about our brains (psychology is the other) which makes a great deal of sense when you think about how focused he was on the human element in our organizations (and the others are viewed significantly by how they interact with our brains – how we view variation, how we often fail to look at the whole system when drawing conclusions, etc.).
I believe most people don't give nearly enough attention to theory of knowledge especially and also psychology within the context of an organization. They are a bit messy and vague and dependent and not easy to create simple cut and paste instructions for how to manage. This webcast takes a different look at it without connections back to management but I think most people need to spend more time thinking about these ideas. This video can help you do that.
If you are constantly (multiple times a minute in this video) seeing the connections with Deming and how the points relates to management that is a good sign. If not, that probably means you should spend more time reading and thinking about the theory of knowledge and psychology (see managing people posts).
Related: Customers Are Often Irrational – Revealed preference versus stated preference – How We Know What We Know – The Neuroscience of Deming – Illusions: Optical and Other
A Good Management System is Robust and Continually Improving
Posted on May 22, 2014 Comments (4)
imagine various people working within it, somehow swapping out gears and cogs without the clock stopping or slowing down even a little.
This is a fairly good quote on a good management system. Some people might not like the mechanistic model – comparing an organization to a clock, and I agree that isn't the right model, but even so it is a good quote.
The quote, from a story about the San Antonio Spurs captures what should happen with a good management system. Things just keep running well as inevitable changes take place (and keep getting better in the case of a management system).
A good management system doesn't rely on heroic efforts to save the day. The organization is designed to success. It is robust. It will succeed with all the variation thrown at it by the outside world. A good management system takes advantage of the contributions people offer, but it is not perform poorly when others are relied on.
A well run organization has graceful degradation (when one component fails or one person is missing the performance doesn't suffer, bad results are avoided).
With software for example, a decently created web sites may use javascript to enhance the user experience but if javascript is unavailable the site works fine (just missing some neat features that are nice but don't prevent users from getting what they need). Poorly designed software has critical dependencies on conditions that cannot be guaranteed to be present for end users and the software just fails to work when those conditions are not met. Ungraceful degradation is too common in software. It is also too common in our management systems.
An organization succeeds because of the efforts of many great people. But the management system has to be created for an organization to prosper as what we all know will happen, happens: people will leave and need to be replaced. And the people that stay will need to adjust to new conditions inside the organization and in response to external forces. A good management system is constantly improving performance, innovating, increasing the robustness of systems and increasing the capability of people.
Related: Bad Weather is Part of the Transportation System – How to Sustain Long Term Enterprise Excellence – Performance dependent on specific individuals is not robust and not capable of continuous high quality performance – European Blackout: Human Error-Not
Your Purpose Must Be About You
Posted on May 19, 2014 Comments (1)
Guest post by Jurgen Appelo
I'm a writer. It's the one thing that I intend to do for the rest of my life. That means, when I focus on writing, I cannot focus on knitting. Somebody else will have to do the knitting, so I can focus on the writing. And maybe later, I can trade my wonderful book for someone's beautiful sweater. This concept applies to all other professionals too. Everyone is entangled in a web of economic dependencies, and therefore, the purpose you choose for yourself should somehow generate value for the others around you. Or else nobody will give you a knitted sweater.
This all makes perfect sense to complexity scientists, who have known for a while that complex adaptive systems find a global optimum through local optimizations and interdependencies. (At Home in the Universe by Stuart Kauffman) The parts in a complex system all try to optimize performance for themselves, but their efforts depend on the dependencies imposed on them by the parts around them. With a mix of competition and collaboration, the parts interact with each other without any focus on a global purpose. Nevertheless, the end result is often an optimized system. Biologists call it an ecosystem. Economists call it an economy. I call it common sense.
Putting the "Why" in Your Mission Statement
Most management scholars and experts have ignored the insights from the complexity sciences (or are unaware of them) and some have suggested goals for teams, and purposes for businesses, that are too narrow. There are many corporate mission statements in the world expressing ideas such as, "Make money for shareholders", "Put customers first", and "Achieve superior financial results" (The Leader's Guide to Radical Management by Stephen Denning). In each of these cases, the purpose of the organization is (too) narrowly defined as providing value to one type of client or stakeholder.
George Box Articles Available for a Short Time
Posted on May 14, 2014 Comments (0)
A collection of George Box articles have been selected for a virtual George Box issue by David M. Steinberg and made available online.
George E. P. Box died in March 2013. He was a remarkably creative scientist and his celebrated professional career in statistics was always at the interface of science and statistics. George Box, J. Stuart Hunter and Cuthbert Daniel were instrumental in launching Technometrics in 1959, with Stu Hunter as the initial editor. Many of his articles were published in the journal. Therefore we think it is especially fitting that Technometrics should host this on-line collection with some of his most memorable and influential articles.
They also include articles from Journal of the American Statistical Association and Quality Engineering. Taylor & Francis is offering these articles freely in honor of George Box until December 31st, 2014. It is very sad that closed science and engineering journals block access to the great work created by scientists and engineers and most often paid for by government (while working for state government universities and with grants organizations like the National Science Foundation[NSF]). At least they are making a minor exception to provide the public (that should be unlimited access to these works) a limited access to these articles this year. These scientists and engineers dedicated their careers to using knowledge to improve society not to hide knowledge from society.
Some of the excellent articles make available for a short time:
The "virtual issue" includes many more articles.
Related: Design of Experiments: The Process of Discovery is Iterative – Quotes by George E.P. Box – The Art of Discovery – An Accidental Statistician: The Life and Memories of George E. P. Box
Interview on PDSA, Deming, Strategy and More
Posted on May 8, 2014 Comments (3)
Bill Fox interviewed me and has posted part one of the interview on his web site: Predicting Results in the Planning Stage:
Another response:
See the full interview for more details and other topics. I think it is worth reading, of course I am a bit biased.
Related: more interviews with John Hunter – Interviews with John Hunter on his book: Management Matters – Deming and Software Development – Lean Blog Podcast with John Hunter
More Evidence of the Damage Done by Kleptocrat CEO Pay
Posted on April 21, 2014 Comments (1)
I have been writing about the problems of overpaid executives that has lately become so bad that verbiage understand the nature of the problem. Today I see many CEO's are acting as kleptocrats do – taking food out of others mouths to build their castles. The damage done to everyone else involved is of no concern. Both groups love bankers that flood them with cash for new and larger castles at the expense of the futures of their company (or country).
This paper does a very good job of providing more evidence of the damage done by these kleptocrat CEOs and their apologists.
Are Top Executives Paid Enough? An Evidence-Based Review by Philippe Jacquart and J. Scott Armstrong
Our review of the evidence found that the notion that higher pay leads to the selection of better executives is undermined by the prevalence of poor recruiting methods. Moreover, higher pay fails to promote better performance. Instead, it undermines the intrinsic motivation of executives, inhibits their learning, leads them to ignore other stakeholders, and discourages them from considering the long-term effects of their decisions on stakeholders. Relating incentive payments to executives' actions in an effective manner is not possible. Incentives also encourage unethical behaviour. Organizations would benefit from using validated methods to hire top executives, reducing compensation, eliminating incentive plans, and strengthening stockholder governance related to the hiring and compensation of executives.
Many of the problems with the poor thinking around executive pay stem from the failure to grasp ideas Dr. Deming wrote about decades ago.
Executives are often evaluated on the basis of the success or failure of the business units for which they are responsible. In practice, many internal and external factors influence outcomes for firms, and assessing the role played by a given executive is not possible. For example, should a manager get credit for a firm's success when the economy is booming or blame for the firm's losses during a recession? When answering such questions, evaluators are biased toward ignoring contextual factors and overly attributing outcomes to leaders. This bias was illustrated in a laboratory experiment in which groups of participants had to solve a coordination task. In the experiment, group size varied, and participants could perceive that the task was harder when the group was larger. Despite this, participants credited group leaders for the success of small groups and blamed them for the failure of large groups (Weber et al. 2001).
The quote from their paper show a failure to understand variation (attributing variation to those near the variation at the time – good marks when the variation is good, bad marks when it is bad). And a failure to understand the organization as a system (the results of any subsystem are greatly influenced by the whole system and the conditions outside the system (the economy, the macro-economic conditions for the industry…). And a failure to understand the theory of knowledge: people should know our brains leap to causation explanations when the evidence doesn't support it. Then confirmation bias and psychology lead us to accept the data that supports our biases.
Nonexperimental studies also find that increases in CEO compensation occur following increases in firm performance that result from factors beyond the CEO's control—CEOs are paid for being lucky. For example, CEOs in the oil industry were compensated for increased profits resulting from fluctuations in the price of crude oil—a factor beyond their control (Bertrand and Mullainathan 2001).
You see this just looking at the money heaped onto executives (in addition to the already huge payments taken) in industries whenever those industries (not individual companies, the entire industry) have macro-economic windfalls.