Stated Versus Revealed Preference
Posted on July 9, 2013 Comments (3)
My father provided me a good example of the flawed thinking of relying on stated preference when I was growing up. Stated preference is, as you might deduce, the preferences voiced by customers when you ask. This is certainly useful but people's stated preference often do not match there actions. And for a business, actions that lead to customers are more important than claims potential customers make about what will make them customers.
His example was that if you ask people if clean bathrooms in a restroom is required for a restaurant they will say yes. Potential customers will say this is non-negotiable, it is required. But if you eat at many "ethnic restaurants," as we always did growing up, you would see many popular restaurants did not have clean restrooms. If the food at atmosphere was good enough clean restrooms were negotiable, even if customers stated they were not.
Now I think clean restrooms is a wise move for restaurants to make; it matters to people. Instead of creating a barrier to repeat customers that has to be overcome with much better food and atmosphere it is wiser to give yourself every advantage by giving the customers what they want. But I think the example is a simple example of stated versus revealed preferences.
McDonald's gets a great deal of success by doing certain things well, including clean bathrooms, even if they miss on things some people think are important for a restaurant. McDonald's really gets a fair amount of business for people driving a long distance that really want a clean bathroom and a quick stretch of their legs and quick food. This is a small percentage of McDonald's customer visits but still a very large number of visits each day I am sure. Understanding, and catering to, the problem your customers are trying to solve is important.
The point to remember is what your potential customers say they will do is different than what they do. It is sensible to listen to stated preferences of customers just understand them for what they are.
We need to pay more attention to revealed preferences. Doing so can require putting in a bit more thinking than just asking customers to fill out a questionnaire. But it is worth the effort. A simple restaurant based example would be to have wait staff pay attention to what people leave on their plate. If you notice certain side dishes are not eaten more often, look into that and see what can be done (improving how it is prepared, substituting something else…).
Related: Voice of the Customer – The Customer is the Purpose of Our Work – Customers Are Often Irrational – Packaging Affects Our Perception of Taste – Be Careful What You Measure
Curious Cat Management Improvement Carnival #196
Posted on July 1, 2013 Comments (0)
The Curious Cat Management Improvement Carnival is published twice each month. The posts selected for the carnival focus on the areas of management improvement I have focused on in the Curious Cat Management Improvement Guide since 1996: Deming, lean thinking, leadership, innovation, respect for people, customer focus, etc..
What is the Explanation Going to be if This Attempt Fails?
Posted on June 25, 2013 Comments (0)
Occasionally during my career I have been surprised by new insights. One of the things I found remarkable was how quickly I thought up a new explanation for what could have caused a problem when the previously expressed explanation was proven wrong. After awhile I stopped finding it remarkable and found it remarkable how long it took me to figure out that this happened.
I discovered this as I programmed software applications. You constantly have code fail to run as you expect and so get plenty of instances to learn the behavior I described above. While I probably added to my opportunities to learn by being a less than stellar coder I also learned that even stellar coders constantly have to iterate through the process of creating code and seeing if it works, figuring out why it didn't and trying again.
The remarkable thing is how easily I could come up with an new explanation. Often nearly immediately upon what I expected to work failing to do so. And one of the wonderful things about software code is often you can then make the change in 10 minutes and a few minutes later see if it worked (I am guessing my brain kept puzzling over the ideas involved and was ready with a new idea when I was surprised by failure).
When I struggled a bit to find an initial explanation I found myself thinking, "this has to be it" often because of two self reinforcing factors.
First, I couldn't think of anything else that would explain it. Sometimes you will think right away of 4 possible issues that could cause this problem. But, when I struggled to find any and then finally came up with an idea it feels like if there was another possibility I should have thought of it while struggling to figure out what I finally settled on.
Second, the idea often seems to explain exactly what happened, and it often feels like "of course it didn't work, what was I thinking I need to do x." This often turns out to be true, doing x solves the problem and you move on. But a remarkable percentage of the time, say even just 10%, it doesn't. And then I would find myself almost immediately thinking, of course I need to do y. Even when 10 seconds ago I was convinced there was no other possibility.
Getting Known Good Ideas Adopted
Posted on June 19, 2013 Comments (2)
This month Paul Borawski asked ASQ's Influential Voices to explore two questions; first, what is the most important challenge the quality community faces in ensuring that the value of quality is fully realized for the benefit of society?
I really think it is just getting the good ideas to improve management, that have been around for decades, adopted. This might not seem that important. But I hear almost no talk about this and tons of talk about all sorts of "new ideas" for management.
The "new ideas" that I look into don't seem like very new ideas to me. The best of these ideas are usually well thought out tweaks and enhancements (along with a potentially better presentation of the core ideas) that are useful. But they are really just about getting old ideas adopted, it seems to me. Still this is good and useful work.
Unfortunately the vast majority seems to me to be overly simplistic ideas that involved more thought in creating something to market than in creating something to improve the practice of management.
We seem to spend all sorts of time and energy focused on new branding for management ideas when we would be better off focusing on how to get organizations to adopt good practices. I think the distraction with finding new ways of clothing the same old ideas is a distraction that prevents focus where it would be more worthwhile. This is especially true because those rebranding old ideas often don't understand the old idea. They seem to see it would easier to sell if it were simplified so they do that and rebrand it but they don't understand that they left of critical components and it won't work – even if it is easier to sell.
Curious Cat Management Improvement Blog Carnival #195
Posted on June 15, 2013 Comments (1)
The Curious Cat management blog carnival has been published since 2006. New posts are published twice a month. I also publish a collection management improvement articles on the Curious Cat management improvement articles site.
Experience Teaches Nothing Without Theory
Posted on June 11, 2013 Comments (2)
"Experience teaches nothing. In fact there is no experience to record without theory… Without theory there is no learning… And that is their downfall. People copy examples and then they wonder what is the trouble. They look at examples and without theory they learn nothing."



Our brains are good at creating theories, from our experiences, so that our brain can learn. However when this is done only subconsciously we can be led astray. And in complex situations where it is not easy to see the causal relationships (managing human systems for example) it easier for us to be led astray when we are not consciously thinking about the theory driving our thoughts and decisions.
When we are learning (as little kids) we don't understand that are brain is creating theories to help us learn. But our brain is creating theories and testing them out. What happens when we push the spoon off our high chair? Lets try it 500 times and see. After repeated experiments, we learn a good deal about how gravity will affect objects no matter where you are, no matter if you are in a highchair, or a stroller or a slide or your mother's lap… We also learn about how people will react (psychology).
Our brains are great at creating theories and testing them even without us understanding that is what is going on. But managers need to push past this subconscious learning to understand the theories behind their actions or they will spend lots of time on activities that are wasteful, similar to the bird in this webcast:
Worm charming is a behavior birds use to encourage worms to go to the surface so the birds can then eat them. The methods used vary, however tapping earth with feet to generate vibrations is widespread. One theory for why the worms go to the surface is the vibrations are similar to those produced by digging moles, which prey on earthworms.
This bird doesn't understand the theory behind their instinct. Therefore the bird can't understand that a worm is not likely to burst through the pavement. Too often managers are applying behaviors without understanding the theory (or without evidence showing that the practice based on the theory is effective – failing to practice evidence based management). And so the managers don't understand that the behavior will not be successful given the conditions they find themselves in.
Related: We are Being Ruined by the Best Efforts of People Who are Doing the Wrong Thing – How We Know What We Know – The Illusion of Knowledge
Leadership and Management
Posted on June 4, 2013 Comments (7)
I don't think the attempts to separate leadership and management are useful. I read plenty of things that are variations on Peter Drucker's:
"Management is doing things right; leadership is doing the right things."
A manager that is not concerned about doing the right things is a lousy manager. And a leader that doesn't care about doing things right is a lousy leader.
Another theme of this contrasting type quote says some version of:
"Managers care about efficiency and leaders care about effectiveness"
A manager who doesn't strive to be effective is also a lousy manager. It is also odd to suppose the detached leader (the type that lets the manager deal with the mundane while they dream), one that doesn't concern themselves with customer focus, value chains, going to the gemba really has a clue about effectiveness. The idea seems mainly to view a manager is a cog looking at some tiny process and making it efficient without understanding the organization as a system or value chains or customer focus.
I think, the main problem is all of the attempts to contrast leaders and managers. Much of the time people are saying managers don't do things they certainly should be doing.
The desire to express how leadership traits can be used by those without organizational authority are useful. Discussion of how certain traits can be seen as within the domain of leadership I suppose may be useful (it can help our minds see how various traits and practices combine to help get results – and we can categorize these under "leadership").
Leaders that are primarily "big thinkers" and motivators without a clue about how to actually do the things they advocate (the model of "managers" deal with the implementation with blinders to the system while "leaders" are "above the fray") is not useful in my opinion. It does note a somewhat common practice (in organizations today) but not one that is wise. Separating leadership from the gemba is not wise. Separating leadership from a deep understanding of customers is not wise. Separating leadership from how the organization actually works is not wise.
Plenty of others seem to disagree with my opinion though, there are many articles, blog posts, podcasts, talks… on separating leadership from management.
Curious Cat Management Improvement Blog Carnival #194
Posted on June 1, 2013 Comments (0)
The Curious Cat Management Improvement Carnival has been published since 2006. The carnival, published twice a month, links to great, recent, management blog posts. I hope you find these post interesting and find some new blogs to start reading. Follow John Hunter online: Google+, Twitter and elsewhere.
Peter Senge on Systems Thinking
Posted on May 28, 2013 Comments (1)
People must be willing to challenge their mental models in order to find non-obvious areas of high leverage – which allow significant improvement.
System thinking is a term that is often confusing to people. From my perspective it is important to understand the importance of leverage. Understanding systems lets you find solutions that may not be direct, but provide powerful leverage. Another important point is looking at the organization as a system.
Understanding the interdependence of the aspects of the system/organization/process is also important (and part of seeing the organization as a system). We often don't consider how changes will impact other areas of the system that are not immediately apparent. This weakness in how we often think today, results in great opportunities to improve by factoring in the impacts that are not as obvious.
As Peter Senge mentions in the video the concept of long term thinking plays a role. Often we are now neglecting or vastly under-appreciating long term impacts (focusing on only the results in the short term) and thus often their are opportunities to improve just by factoring in not just the short term impacts but also placing importance on longer term impacts.
Peter Senge: "Its not about the smartest guys in the room its about what we can do collectively. So the intelligence that matters is the concept of collective intelligence."
Related: We are Being Ruined by the Best Efforts of People Who are Doing the Wrong Thing – How to Get a New Management Strategy, Tool or Concept Adopted – Build an Environment Where Intrinsic Motivation Flourishes
Executive Leadership
Posted on May 21, 2013 Comments (3)
Senior executives must lead management improvement efforts. When senior executives only give lip service to management efforts the result is normally the same: little happens.
When Dr. Deming was working with companies after the 1980′s NBC white paper, If Japan Can Why Can't We, he wouldn't work with companies if the CEO wasn't attending the meetings and learning how to manage the organization better. Dr. Deming had seen far too many CEOs want improvement but wanted to delegate the effort of getting there. Dr. Deming saw when senior executives delegated improving the management system it didn't work.
There are a number of problems with senior executives not taking improvement seriously. First, and most common, they don't really believe it and have no interest in improving practices – they just want to magically get better results without improving how things are done.
Second many senior executives don't understand what management improvement is about. They think it is something those other people do on the factor floor or in the call center or somewhere. The most important changes will be in the c-suite for organizations that make substantial improvements. But when executives are out of touch (as so many are) in both management practice and how their organization actually works (at the gemba) then improvement efforts are extremely difficult.
If those senior executives are taking part in the improving the management system they will learn and then will be able to help improve the management system. If they are not engaged in actively working PDSA (on their workload) learning about variation, looking at their organization as a system, making changes to the organization given an understanding of respect for people the potential gains are severely limited.
Management Improvement Blog Carnival #193
Posted on May 15, 2013 Comments (0)
The Curious Cat Management Improvement Carnival is published twice each month. The posts selected for the carnival focus on the areas of management improvement I have focused on in the Curious Cat Management Improvement Guide since 1996: Deming, lean thinking, innovation, respect for people, customer focus, etc..
Lean Blog Podcast with John Hunter
Posted on May 13, 2013 Comments (1)
Mark Graban interviewed me for the Lean Blog podcast series: Podcast #174 – John Hunter, "Management Matters" (listen using this link). Links to more information on what we discussed in the podcast.
More podcasts with me: Software Process and Measurement Podcast With John Hunter – Business 901 Podcast: Deming's Management Ideas Today – Process Excellence Network Podcast with John Hunter
Management Improvement Blog Carnival #192
Posted on May 1, 2013 Comments (2)
The Curious Cat management blog carnival has been published since 2006. New posts are published twice a month. I also publish a collection management improvement articles on the Curious Cat management improvement articles site.
94% Belongs to the System
Posted on April 24, 2013 Comments (6)
I should estimate that in my experience most troubles and most possibilities for improvement add up to the proportions something like this: 94% belongs to the system (responsibility of management), 6% special.
Page 315 of Out of the Crisis by Dr. W. Edwards Deming.
the system that people work in and the interaction with people may account for 90 or 95 percent of performance.
Dr. Deming's quote from the introduction to the Team Handbook
I think, in looking at the total of Deming's work, that the point he is trying to make is that looking to blame people is not a good strategy for improvement. The impact due solely to a person's direct action (not including their interaction with the system and with others) is small in comparison to that of the system within which they work. So, Deming (and I) want people to focus on improving the system; which will achieve better results than searching for what people did wrong.
What did Deming want people to take from his statements?
Did he want us just to accept bad results? No. He was not saying it is the system there is nothing we can do just accept that this is how things are. He wanted us to focus on the most effective improvement strategies. He saw huge waste directed at blaming people for bad results. He wanted to focus the improvement on the area with the greatest possibility for results.
Did he want to say people are just cogs in the machine? No. Read or listen to most anything he said at any significant length (a full chapter of this book, a full article he wrote on management, an hour from one of his videos) and it is hard to maintain such a thought.
Did he believe that people were not important? No. He was trying to direct the focus of improvement efforts to look not at the fault with one person but to look at the system. I believe strongly he was correct. If you blame a person as the root cause of a problem, my first, second and third reactions are why? why? why? It is possible the person is to blame and there is no benefit to exploring system improvement instead of settling for blaming the person. But that is rare.
I have written about the importance of developing people to build the capability of the organization. My father wrote about it previously, "American organizations could compete much better at home and abroad if they would learn to tap the potential information inherent in all processes and the creativity inherent in all employees."
I wrote about the importance of the ideas behind Deming's quotes here, back in 2006 – Find the Root Cause Instead of the Person to Blame
The Art of Discovery
Posted on April 18, 2013 Comments (3)
Quality and The Art of Discovery by Professor George Box (1990):
Quotes by George Box in the video:
"I think of statistical methods as the use of science to make sense of numbers"
"The scientific method is how we increase the rate at which we find things out."
"I think the quality revolution is nothing more, or less, than the dramatic expansion of the of scientific problem solving using informed observation and directed experimentation to find out more about the process, the product and the customer."
"It really amounts to this, if you know more about what it is you are doing then you can do it better and you can do it cheaper."
"We are talking about involving the whole workforce in the use of the scientific method and retraining our engineers and scientists in a more efficient way to run experiments."
"Tapping into resources:
Every operating system generates information that can be used to improve it.
Everyone has creativity.
Designed experiments can greatly increase the efficiency of experimentation.
An informed observer and directed experimentation are necessary for the scientific method to be applied. He notes that the control chart is used to notify an informed observer to explain what is special about the conditions when a result falls outside the control limits. When the chart indicates a special cause is likely present (something not part of the normal system) an informed observer should think about what special cause could lead to the result that was measured. And it is important this is done quickly as the ability of the knowledgable observer to determine what is special is much greater the closer in time to the result was created.
The video was posted by Wiley (with the permission of George's family), Wiley is the publisher of George's recent autobiography, An Accidental Statistician: The Life and Memories of George E. P. Box, and many of his other books.
Related: Two resources, largely untapped in American organizations, are potential information and employee creativity – Statistics for Experimenters (book on directed experimentation by Box, Hunter and Hunter) – Highlights from 2009 George Box Speech – Introductory Videos on Using Design of Experiments to Improve Results (with Stu Hunter)
Management Improvement Blog Carnival #191
Posted on April 15, 2013 Comments (0)
The Curious Cat Management Improvement Carnival has been published since 2006. The carnival, published twice a month, links to great, recent, management blog posts. I hope you find these post interesting and find some new blogs to start reading. Follow John Hunter online: Google+, Twitter and elsewhere.
Management Improvement Blog Carnival #190
Posted on April 4, 2013 Comments (0)
The Curious Cat Management Carnival is published twice each month. The posts selected for the carnival focus on the areas of management improvement I have focused on in the Curious Cat Management Improvement Guide since 1996: Deming, evidence based management, systems thinking, respect for people, applied statistics, etc..
George Box
Posted on March 28, 2013 Comments (13)
I would most likely not exist if it were not for George Box. My father took a course from George while my father was a student at Princeton. George agreed to start the Statistics Department at the University of Wisconsin – Madison, and my father followed him to Madison, to be the first PhD student. Dad graduated, and the next year was a professor there, where he and George remained for the rest of their careers.
George died today, he was born in 1919. He recently completed An Accidental Statistician: The Life and Memories of George E. P. Box which is an excellent book that captures his great ability to tell stories. It is a wonderful read for anyone interested in statistics and management improvement or just great stories of an interesting life.
George Box was a fantastic statistician. I am not the person to judge, but from what I have read one of the handful of most important applied statisticians of the last 100 years. His contributions are enormous. Several well know statistical methods are known by his name, including:
George was elected a member of the American Academy of Arts and Sciences in 1974 and a Fellow of the Royal Society in 1979. He also served as president of the American Statistics Association in 1978. George is also an honorary member of ASQ.
George was a very kind, caring and fun person. He was a gifted storyteller and writer. He had the ability to present ideas so they were easy to comprehend and appreciate. While his writing was great, seeing him in person added so much more. Growing up I was able to enjoy his stories often, at our house or his. The last time I was in Madison, my brother and I visited with him and again listened to his marvelous stories about Carl Pearson, Ronald Fisher and so much more. He was one those special people that made you very happy whenever you were near him.
George Box, Stuart Hunter and Bill Hunter (my father) wrote what has become a classic text for experimenters in scientific and business circles, Statistics for Experimenters. I am biased but I think this is acknowledged as one of (if not the) most important books on design of experiments.
George also wrote other classic books: Time series analysis: Forecasting and control (1979, with Gwilym Jenkins) and Bayesian inference in statistical analysis. (1973, with George C. Tiao).
George Box and Bill Hunter co-founded the Center for Quality and Productivity Improvement at the University of Wisconsin-Madison in 1984. The Center develops, advances and communicates quality improvement methods and ideas.
The Box Medal for Outstanding Contributions to Industrial Statistics recognizes development and the application of statistical methods in European business and industry in his honor.
"All models are wrong but some are useful" is likely his most famous quote. More quotes By George Box
A few selected articles and reports by George Box
Quality Processes in Unexpected Places
Posted on March 25, 2013 Comments (0)
This month Paul Borawski asked ASQ's Influential Voices to explore the use of quality tools in unexpected places.
The most surprising example of this practice that I recall is the Madison, Wisconsin police department surveying those they arrested to get customer feedback. It is obvious that such "customers" are going to be biased. Still the police department was able to get actionable information by seeking the voice of the customer.
Certain of the police department's aims are not going to match well with those they arrest (most obviously those arrested wish the police department didn't arrest them). The police department sought the voice of the customer from all those they interacted with (which included those they arrested, but also included those reporting crimes, victims, relatives of those they arrested etc.).
The aim of the police department is not to arrest people. Doing so is necessary but doing so is most similar in the management context to catching an error to remove that bad result. It is better to improve processes so bad results are avoided. How the police interact with the public can improve the process to help steer people's actions away from those that will require arrests.
The interaction police officers have with the public is a critical gemba for meeting the police department's aim. Reducing crime and encouraging a peaceful society is aided by knowing the conditions of that gemba and knowing how attempts to improve are being felt at the gemba.
All customer feedback includes bias and personal preferences and potentially desires that are contrary to the aims for the organization (wanting services for free, for example). Understanding this and how important understanding customer/user feedback on the gemba is, it really shouldn't be surprising that the police would want that data. But I think it may well be that process thinking, evidence based management and such ideas are still not widely practiced as so the Madison police department's actions are still surprising to many.
Quality Leadership: The First Step Towards Quality Policing by David Couper and Sabine Lobitz
This article, from 1987, illustrates the respect for people principle was alive and being practiced 25 years ago; most organizations need to do a great deal more work on applying practices that show respect for people.
Related: Quality Improvement and Government: Ten Hard Lessons From the Madison Experience by David C. Couper, Chief of Police, City of Madison, Wisconsin – SWAT Raids, Failure to Apply System Thinking in Law Enforcement – Measuring What Matters: Developing Measures of What the Police Do – The Public Sector and W. Edwards Deming – Doing More with Less in the Public Sector – A Progress Report from Madison, Wisconsin
The Components of Genius
Posted on March 19, 2013 Comments (1)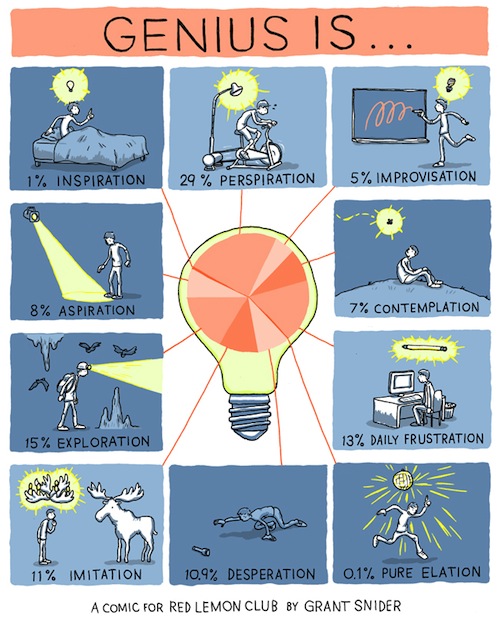 Wonderful poster, by Grant Snider, on the question: what is genius.
Related: Comic About Programers – You Have to Find What You Love To Do – Marissa Mayer Webcast on Google Innovation – Interruptions Can Severely Damage Performance