Decades Later The USA Health Care System is Still a Deadly Disease for Our Economy
Posted on March 30, 2016 Comments (3)
Decades ago W. Edwards Deming named 7 deadly diseases of western management. One of those was excessive health care costs. Sadly that deadly disease has become much worse in the last several decades.
Americans pay 300% more for this prostate cancer drug than much of the rest of the world
This specific example also highlights what I classified as a new deadly disease in 2007 – the broken patent and trademark system.
Both of these deadly diseases greatly damage the USA economy and the economic condition of USA citizens. It is disgraceful that the Democratic and Repulbican parties have allowed these deadly diseases to ravage the USA economy for decades.
The drug price situation in the USA is greatly exsaserbated by the corrupt political process. Drug companies give large amounts of cash to those we elect and then those we elect create system that damage the USA economy and provide drug companies huge extra profits inside the USA (those profits then allow the companies to charge other countries even less and still make a great return on their investment). I wrote about this in 2005: Excessive Drug Prices in the USA (and several times since then, Drug Price Crisis [2008] – it is a long term, huge economic problem for the USA).
Health care is extremely expensive everywhere. But in the USA the health care system is twice as costly as other rich countries. This is an enormous burden on the USA economy. Nothing else comes close to being as costly in terms of direct spending. And there a a great deal of other damage done that can't be seen in just the 100% more the USA spends on health care than other rich countries spend. And the health outcomes are no better for the extra hundres of billions of dollars spent every year for health care in the USA.
The costs of decades of failure are extrodinary. We shouldn't allow the political parties to continue to fail to sensibly address these problems. Even if we can just get to the point of costing 50% more than other rich countries our economy will be greatly enhanced, but we have not even been able to reduce the health care tax the USA health care system puts on us to just 50% more than other countries. That is a pretty sad state of affairs especially when you consider that other countries are not doing a great job – so we are twice as costly, not as some extremely wonderful amazing system but twice as costly as mediocre comparisons.
Extremely inflatted drug prices in the USA are a significant part of the problem but still only a portion of a system that has been costly the USA economy and citizens hundreds of billions of dollars a year (and untold soffuering in many other ways) for decades. We have to do better.
Related: USA Health Care Spending 2013: $2.9 trillion $9,255 per person and 17.4% of GDP – The Growing Market for International Travel for Medical Care – CEOs Want Health-Care Reform (2009) – Can We Expect the Health Care System in the USA to Become Less Damaging to the Economy? (2011)
Giving Executives 40% of Revenue is Insane
Posted on March 21, 2016 Comments (0)
I have previous written on my belief that excessive executive compensation had reached the level of a deadly disease of western management (building on the W. Edwards Deming's list of 7 deadly diseases). I named excessive executive pay and a broken "intellectual property" system as new deadly diseases in 2007.
Here is a graphic from, It's Twitter's birthday, and its executives are getting huge stock-based gifts, showing the massive executive give-away at Twitter.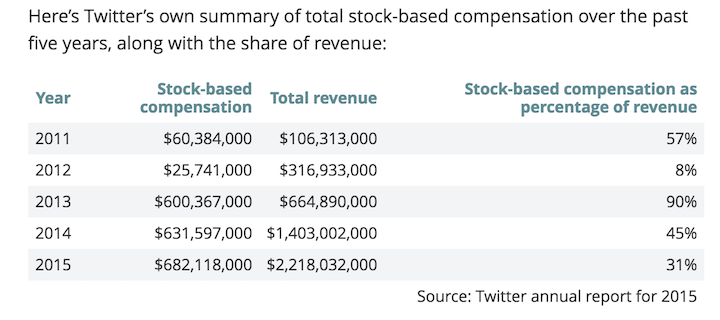 Twitter has given executives $2,000,000,000 in just stock based compensation from 2011 through 2015. Twitter's revenue for those 4 years was only $4,709,000,000. So Twitter gave executives 42.5% of revenue. This is of revenue, not earnings, Twitter isn't even profitable.
Granted this is an extremely bad case but this pattern of giving away hundreds of millions of dollars to executives is common. It is destructive. It is disrespectful. It is a stain on those participating in the looting of companies for the benefit of the executive bureaucrats – those that enable them to siphon off the returns generated by companies into their pockets.
Related: Toyota Post Record Profit: Splits $15 million in Pay and Bonus for top 21 Executives (2014) – Business 901 Podcast: Two New Deadly Diseases for Business (2013) – Massive Bonuses Encourage Executives to Take Massive Risks (leverage etc.)
Seek to Improve How You Learn, Don't Just Accept That You Can't Do Better
Posted on March 3, 2016 Comments (1)
As a speaker or coach or teacher it is wise to learn what impacts how people absorb information and learn. Factoring those ideas into how you communicate (one on one, coaching, training, presenting…) is wise.
Learning about how people learn and remember is important to allow you to communite well. And most people seem to understand this. But they also seem to have no shame in not improving their performance in relation to these common weaknesses.
I have never understood why so many people talk about weaknesses in how people learn (people only remember "10% of what they hear, 20% of what they read, and 80% of what they see and do"; you must repeat something 7,9,12… times before most people will remember it; people will retain more if they are given concrete examples relevant to them; people will remember more if they speak or write than if they just passively listen; a good visual will make an idea presented much more likely to be remembered…) but never seem to seek to improve their weaknesses in these areas.
Yes, it is harder for us to retain new information when we just hear about it or if good information is presented poorly. But if you do a much better job of learning and succeed in retaining what you hear or see (even if often people fail to do this well) you will be better off.
Yet what I see is people spouting these statistics, not as a way of learning what they need to improve themselves but as a way of explaining that it is inevitable and they won't do any better (or even bother to attempt to do so). It just isn't true that you can't do better. You can train yourself to learn more than most people when the material is presented in a less than perfect manner by learning how we commonly fail to learn and making efforts to do better yourself.
Sure, learn these common traits to know how you need to take them into account when communicating with others. But also examine yourself and see if you have the same weaknesses and improve in those areas you are weak. Also you can learn from them how to be more successful in retaining good ideas (write them down, think about applying them in your context, make a note to actually apply them at work tomorrow or next week…). You can blame whoever was communicating the ideas to you for failing to present it as well as they should but that won't help you learn more.
Also companies would be wise to put more effort into helping people learn better. I see lots of focus on how presenters should do better, but very little on how people can improve their capacity to listen and learn. Yes, those presenting should continually seek to improve and be aware of their customers (those they are communicating with). Those that are learning should also seek to improve their ability to learn, even if the way material is presented isn't optimal.
By the way, you might also want to question much of the claims of what people remember: Mythical Retention Data & The Corrupted Cone.
Related: Effective Communication is Explicit – Communicating Change – How Could They Know? They could learn about the job they were paid to do. –
A Powerful Tool for Learning: The Capacity Matrix
Transform the Management System by Experimenting, Iterating and Adopting Standard Work
Posted on January 19, 2016 Comments (0)
In this short video, Dr. John Toussaint describes how ThedaCare applied leadership standard work to create a successful management transformation. The changes to the management system were tested by applying standard work for all positions in 2 parts of the organization (including all senior management positions) and learning and adapting and then spreading the new methods to the rest of the organization.
Changes to the management system require the same testing and piloting of changes on a small scale as other process changes. Experiment by going an inch wide and a mile deep, iterate over PDSA cycles, and once we have a solution that works adopt it widely (the A in PDSA).
Related: Systemic Workplace Experiments – Transforming a Management System, A Case Study From the Madison Wisconsin Police Department – Transformation and Redesign at the White House Communications Agency – Culture Change Requires That Leaders Change Their Behavior – Standard Work Instructions – How To Create a Continual Improvement Culture
Most Popular Management and Leadership Quotes on Our Site in 2015
Posted on January 12, 2016 Comments (2)
These were the most popular quotes on the Curious Cat Management and Leadership Quotes web site in 2015 (based on page views). Follow the link on the quote text for the source and more information on the quote.
20 Most Popular Posts on the Curious Cat Management Blog in 2015
Posted on January 5, 2016 Comments (1)
This is a list of the 20 most popular posts on the Curious Cat Management Improvement Blog last year (as measured by page views, as recorded by my analytics application).
Culture Change Requires That Leaders Change Their Behavior
Posted on December 28, 2015 Comments (2)
This month The ASQ Influential Voices are reacting to Luciana Paulise's post:
Facing Cultural Barriers by Leaders to Strengthen a Culture of Quality.
As Luciana stated:
leaders need to change their behavior first if they want to change the entire company culture
W. Edwards Deming wrote in The New Economics:
I believe for significant changes to culture transformation of the individual is required. And I have seen this take place many times. Real gains can be made by applying a few tools and concepts effectively; without transformation. But changes to the culture come from significant changes in how people think.
In a previous post I wrote about What to Do To Create a Continual Improvement Culture
In order to create a culture that enhances your effort to continually improve you must crate systems that move things in that direction. Part of that system will be the continual assessment of how your organization is falling short of your desired culture. This requires honest assessment of the current state. And it requires those in leadership to design systems to get a clear picture on what is really happening in their organization.
Related: Create a Culture Seeking Continual Improvement or Use Band-Aids? – Transforming a Management System – A Case Study From the Madison Wisconsin Police Department – Change is not Necessarily Improvement
Most Popular Links on Management Sub-Reddit in 2015
Posted on December 15, 2015 Comments (1)
I created the management sub-reddit many years ago. The management sub-reddit provides links to worthwhile management content and the members indicate those links they liked. Here is a list of the most popular links added in the last year.
It isn't like "most popular" is some important ranking; but it does seem likely the links that many people in the community liked will be of interest to many of the readers of this blog.
Related: 10 Most Popular Posts on the Curious Cat Management Blog in 2014 – Dell, Reddit and Customer Focus (2006) – Your Online Presence and Social Networks for Managers
Making Your Case to Senior Executives
Posted on November 24, 2015 Comments (1)
This month Dr. Suresh Gettala writes about the Talking To the C-Suite About Quality in the monthly ASQ Influential Voices post.
My take is a bit different than Dr. Gettala (and most others) in that I believe CEOs are so wedded to short term financial measures that if you are speaking to them you need to both appeal to this bias while also fighting to move the organization away from being led by such a bias. That task isn't easy, the financial bounty heaped on CEOs makes it very difficult for them to think of the long term and about the normal customer experience.
In order to "make the sale" the advice is pretty simple, short term financial measures are what will work (most of the time). Clear data that shows cost savings or increased sales are what they want to see. Of course, we have all seen how easy it is to manipulate data to make a case for whatever you are arguing for. If you are making the case that other powerful people (in the room) want to be made and the CEO wants to hear those claims will be easily accepted most of the time.
If you are challenging the Highest Paid Person's Opinion (HiPPO) (and/or their supporters) you will have great difficulty getting your data listened to no matter how compelling it is. Knowing this going into your meeting is critically important.
If you can't find a very clear case to be made for your position, strongly supported by difficult to refute data you may well want to just go along with the desires of those with power. I tend to fight for what I think is right, no matter if my chances of success are low, but this isn't really a wise strategy.
I do try to focus on building the organization into one that will support my belief in a customer focused organization build on a foundation of respect for people striving to continually improve results through experimentation but this is a challenge. And trying to talk to the c-suite about quality when they are not ready to adopt that model of management doesn't do much good.
Though admittedly I am not a good salesperson, I succeed by making things work better not by spinning good stories about how things could be better. Good salespeople will have more success with the challenge of getting a skeptical crowd to accept change, but senior executives normally are not easy to sell on new ideas. My strategy is to build my reputation by achieving results using good management practices. That builds the case for using the management ideas I believe in and listening to what I say (based on past results instead of my charisma or communication skill).
My advice is to grow your circle of influence and build the capability of the organization to adopt a customer focused continual improvement management system. Once that is done, speaking to the c-suite is easy. Before that is done, speaking to them is still easy, unless you want them to change their short term financial focus.
Change Management: Create a Culture Seeking Continual Improvement or Use Band-Aids?
Posted on November 17, 2015 Comments (1)
Successfully shepherding change within an organization is often a challenge. Often change management strategies are mainly about how to cope with a toxic culture but exclude the option of fixing the toxic culture. Why not address the root causes instead of trying band-aids?
The most effective strategy is to build an organizational culture into one that promotes continual improvement. A continual improvement culture is one that is constantly changing to improve (grounded in long term principles: respect for people, experiment, iterate quickly, etc.).
You can try to push change in an ad hoc basis by adopting some strategies to create a similar feeling about the individual change effort. But that isn't as effective as establishing them in the culture are. Strategies such as: going the gemba, pdsa, build trust via respect for people…
These tools and concepts build trust within the organization. The do that by showing people are respected and that the change effort isn't just another in the long line of wasted effort for ineffectual change. The first part can be addressed, normally the second part can't be addressed effectively. Often that is at the core of the issue with why the change effort isn't working. It is a bad solutions. It hasn't been tested on a small scale. It hasn't been iterated numerous times to take a seed of an idea and grow it into a proven and effective change that will be successful. If it had been, many people would be clamoring for the improvement (not everyone, true, but enough people).
But still you can use strategies to cope with lack of trust in your intentions with the change and lack of trust in the effectiveness and fear of change. Some of those are included in the links below. But mainly my strategy is based on focusing on building the proper culture for long term excellence and the change management strategies are just short term coping mechanisms to help deal with the initial challenges. Using those strategies as a long term solution for dealing with change in a toxic culture isn't a very sensible way to manage.
Getting Retweeted by Marc Andreessen Generated a Flood of Retweets
Posted on November 9, 2015 Comments (0)
On Twitter today I was getting more than 30 times the notifications I normally get. So I took a look to see what is going on. One of my tweets was getting retweeted and liked quite a lot (nearly 100 times each, so far). I figure most likely someone with many more followers than I must have retweeted it.
A bit more investigation and sure enough that is what happened. Marc Andreessen had retweeted it. He has 432,000 followers (a bit more than my 1,600).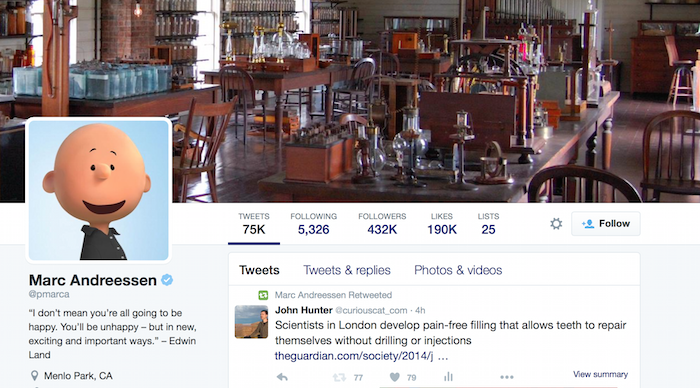 This minor internet enabled connection with fame is one of the fun aspects of the internet (to me anyway, I might be a bit odd). I emailed Tim Berners Lee (the creator of the world wide web) a long time ago (probably about 15 years – and I still remember) and received a nice reply. I have written a few posts on my science and engineering blog about his work over the years including a short post on the first web server (Tim's NeXT computer).
For those that don't know NeXT is the computer company Steve Jobs headed in between his stints at Apple. In 1999, I was giving a presentation at a conference on Using Quality to Develop an Internet Resource (link to my paper for the talk was based on). I was working for the Office of Secretary of Defense, Quality Management Office at the time. In cutting the time down I eliminated saying that the internet was created by the Department of Defense and giving a few sentences on that history as I figured everyone knew that history. After my presentation, one of the people that came up to talk and somehow I mentioned that history and the 3 people standing there didn't know it and were surprised. Anyway that NeXT comment reminded me of that story…
The tweet Marc Andreessen retweeted was about research by scientists in London that developed pain-free filling that allows teeth to repair themselves without drilling or injections.
Several people responded that we will never see this in use (based on the idea that announcements of research breakthroughs often fail to deliver). Quite a few people we looking forward to the day when it would be available though. Including some that were sitting in the dentist office while they were reading about it.
Teaching Students How to Use Better Management Practices
Posted on October 27, 2015 Comments (0)
This month Edwin Garro writes about the Quality and Productivity Technical Program for high school students that has been adopted in Costa Rica. 5 high schools joined in the first year and 7 more will join in the next 2 years. The ASQ Influential Voices are commenting on this idea this month.
I was glad to see the point Edwin makes about the teaching critical thinking. I wrote a blog post about critical thinking perhaps being the most important catalyst to successful adoption of continually improvement management practices.
A system that promotes critical thinking and puts continual improvement first is one that is well on the way to better management practices. With that mindset the value of quality tools and concepts is clear (and can be tested). Without it, often making the boss happy and letting things stay the way they have always been are the main things that drive behavior in the organization.
Teaching the quality tools in combination with critical thinking is a powerful approach. Students that learn to use quality tools to experiment to achieve quality results from system will be well suited to the modern workplace.
I wish the effort in Costa Rica well. They would be wise to keep these words from Dr. Deming in mind as they go forward:
I read the papers that my students turn in. A whole stack of them. That's 435 students at Columbia University last semester and 150 at NYU. A lot of papers to read. But I read them. Not to grade them. No, I read them to see how I am doing. Where am I failing? What don't they understand? Why do they give wrong answers? Why do they have some point of view that I don't think is right? Where am I failing?
Don't just teach quality practices to the students. Use quality practices to improve education. The First Annual W. Edwards Deming Institute Education Conference is being held next month in Seattle. I would encourage the Costa Rica effort to learn from Dr. Deming and Alfie Kohn and David Langford (the latter 2 are keynote speakers at the conference).
I sat in on my first formal education on quality management practices when I was in high school (a seminar my father was giving to the City of Madison).
Related: The Importance of the Education System – K-12 Educational Reform (2007) – Future Engineers and Scientists
Human Proof Design
Posted on October 6, 2015 Comments (0)
Human proof design is design that prevents people from successful using the item.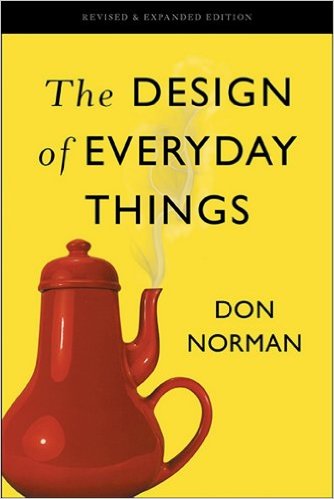 It is similar to mistake proofing except instead of prevent mistakes it prevents people from using it.
When you see human proof design you will often see signs to tell people how to use the device that has been human proofed. Common instances of this are hotels that have shower designs so opaque they need instructions on how to use a device most people have no problem using if they are not human proofed.
Human proof design is often created by a subset of designers that care about how something looks more than how it is used.
Most people prefer designs that are beautiful without being human proofed. The Design of Everyday Things is a great book on designing beautifully with customer focus.
A sign your design is human proofed is that a sign or manual is needed for people to use it.
Most human proof design can be identified very simply by having regular people try to use the item. Watch what they do and when they struggle to use it, many problems will be very obvious. You can't use people in this effort that are significantly different from the normal users.
In several areas I see these failures quite often. Hotel rooms are a common source of problems. The light switches are often very odd and I have to search all over to find out how to turn on or off different lights.
The Mission Statement Must Guide Action In Order To Matter
Posted on September 30, 2015 Comments (1)
Does Mission Matter? That is the question raised this month by Pat La Londe for the ASQ Influential Voices.
I have discussed a similar topic in a previous post: Vision can be a Powerful Driver but Most Often It is Just a Few Pretty Words. I believe that post captures exactly how I feel about the question "does mission matter?"
It doesn't matter if it is just words on paper that has no impact on how business is done. And sadly that is more common than having a mission that actually matters because it actually guides how decisions are made and how the business delivers products and services.
A phrase in your mission statement that your company values employees matters only to the extent the company manifests a respect for people. A phrase about the importance of customers matters only to the extent the company delivers customer delight.
From a post I wrote on The W. Edwards Deming Institute blog, Hallmark Building Supplies: Applying Deming as a Business Strategy:
[Hallmark Building Supplies] uses the purpose statement to make decisions on a regular basis. This is one of the keys to a good purpose statement. If the purpose statement doesn't guide what is happening it is not providing much value.
The video above gives a good illustration about how companies operate when aim/purpose/mission etc. drive business decisions. When this happens mission matters a great deal. It provides focus to everyone as they do their work and prioritize how to continually improve the organization every day. The video also provides an illustration about how leaders behave when they understand the organization as a system.
Related: Aligning Marketing Vision and Management – Ackoff: Corporations Are Led By Those Seeking to Maximize Their Welfare not Shareholder Value – Trust Your Staff to Make Decisions (you can't do this well unless there is a shared understanding of what the priorities are)
All Data is Wrong, Some is Useful
Posted on September 22, 2015 Comments (1)
From my first blog post on this blog – Dangers of Forgetting the Proxy Nature of Data
we often fail to explore whether changes in the numbers (which we call results) are representative of the "true results" of the system or if the data is misleading.
Data is meant to provide us insight into a more complex reality. We need to understand the limitations when we look at "results" and understand data isn't really the results but a representation we hope is close to reality so we can successfully use the data to make decisions.
But we need to apply thought to how we use data. Lab results are not the same are what happens in the field. It is cheaper and faster to examine results in a lab. But relying on lab results involves risk. That doesn't mean relying on lab results is bad, we have to balance the costs and benefits of getting more accurate data.
But relying on lab results and not understanding the risk is dangerous. This is the same idea of going to the gemba to get an accurate understanding instead of relying on your ability to imagine reality based upon some data and ideas of what it is probably like.
Volkswagen Drops 23% After Admitting Diesel Emissions Cheat
Volkswagen AG lost almost a quarter of its market value after it admitted to cheating on U.S. air pollution tests for years
…
During normal driving, the cars with the software — known as a "defeat device" — would pollute 10 times to 40 times the legal limits, the EPA estimated. The discrepancy emerged after the International Council on Clean Transportation commissioned real-world emissions tests of diesel vehicles including a Jetta and Passat, then compared them to lab results.
Obviously VW was managing-to-test-result instead of real world value. It seems they were doing so intentionally to provide misleading data. Obviously one of the risks with lab test results (medical trials etc.) is that those with an interest in showing better results could manipulate the data and lab procedures (or systems) to have the data show their product in the most favorable light.
What to Do To Create a Continual Improvement Culture
Posted on September 8, 2015 Comments (3)
This month the ASQ Influential Voices discussion explores what to do and avoid in order to create a performance culture? James Lawther shared his ideas on what not to do to get things started.
I have discussed steps to take in order to build a culture of continual improvement in numerous posts over the years (see related links below). What it boils down to is building a system that supports that culture. Your culture is the result not your aim.
David Heinemeier Hansson put it well recently in his essay, CEO's are the last to know:
But the bottom line is that culture is what culture does. Culture isn't what you intend it to be. It's not what you hope or aspire for it to be. It's what you do.
In order to create a culture that enhances your effort to continually improve you must crate systems that move things in that direction. Part of that system will be the continual assessment of how your organization is falling short of your desired culture. This requires honest assessment of the current state. And it requires those in leadership to design systems to get a clear picture on what is really happening in their organization.
As I said on Twitter in relation to that article leaders need to understand danger of "losing touch" and take steps to counter that risk. Often the explanation for why something happened (a process producing a failure, a leader not being aware of the real culture…) is an explanation of what the system needs to be designed to address.
In many organization CEOs are not aware of what is going on. This is a weakness that must be addressed systemically. Many of the better management methods proposed by W. Edwards Deming address this issue. CEOs are given a false picture when they focus on results instead of the management system. CEOs are given a false picture when they crate a climate of fear. CEOs are given a false picture in organizations focused on achieving bonuses instead of continual improvement.
The Road Not Taken
Posted on September 2, 2015 Comments (0)
Two roads diverged in a wood, and I–
I took the one less traveled by,
And that has made all the difference.
Wonderful advice and so poignant. But actually, if you read the whole poem, what we take from the quote isn't what the poem was saying. Earlier in the poem it says
Though as for that the passing there
Had worn them really about the same
Robert Frost was poking fun at his friend who would obsess over what fork to take in the path as they walked when in reality the choice made no difference.
And "that has made all the difference" is poking fun at self justifications of our actions; congratulating ourselves for doing something not really worthy of accolades.
Still the top three lines do seem like insightful advice. Of course what is really needed is insight into when choosing the road less traveled is wise (or at least a sensible gamble) and when it is less traveled for very good reasons.
I do believe we far too easily slip into habits encouraged by the well worn path most people take. And therefore think balancing that tendency with at least considering the road less traveled more often is wise. But I actually like that when you read the full poem it really isn't saying that.
Related: Chomphet Hike, Luang Prabang, Laos – Olympic National Park Photos – The Aim Should be the Best Life – Not Work v. Life Balance – Making Better Decisions – Rhinoceros Hornbills on Mount Santubong
Using Technology to Improve The Sharing of Knowledge
Posted on August 4, 2015 Comments (3)
This month the ASQ is asking Influential Voices to discuss methods to aid in sharing knowledge. Manu Vora kicked the discussion off with his post on The Gift of Knowledge Transfer Through Technology.
My career has been largely shaped by the pursuit of better ways to communicate. I grew up surrounded by those seeking to improve management (Bill Hunter, George Box, Brian Joiner, Peter Scholtes…). When I was in grade school that focus was largely on statistics and the value of multi-factor experiments (Dad was a statistician who wrote the "bible" on design of experiments, with George Box and Stu Hunter: Statistics for Experimenters). As I moved into high school Dad was doing much more direct management consulting (it was also a combination of statistics, engineering and management but the emphasis shifted over time) based on Deming's ideas.
The knowledge of how to properly experiment on system with multiple important factors to experiment with (nearly all experiments) has been around for almost 100 years. Yet, even so, still many college level courses talk about the need to adjust one factor at a time (OFAT) and many businesses still experiment this way. The rate at which we incorporate new knowledge is still very poor.
Technology can help improve our adoption of better understanding. Creating a climate and expectation of continued learning is also important, but I won't talk about that in this post.
I published and presented (I think at an ASQ conference though I can't recall which one right now) a paper on Using Quality to Develop an Internet Resource in 1999. The purpose of that internet resource was to share knowledge about quality management and the article provides insight into both those ways of looking at what was done (using quality ideas to create a resource and using the internet to spread quality ideas).
A few years later I started this blog to help people find knowledge that would make them more likely to succeed with efforts to improve management. I believe deeply in the value of Deming's ideas on management but see so many companies make poor attempts to improve management. There are many things needed to improve the success of organizations improvement efforts but I believe the right knowledge (the ideas talked about by Deming, Ackoff, Ohno, Scholtes, etc.) will help a great deal.
Intranets are great tools to share knowledge within your organization. They can also be powerful tools to connect people to internal resources within your organization.
Wikis are a great tool to share a knowledge base (and to maintain things like standardized work, visual job instructions etc.). Wikis are a wonderful technology because of how easy they make the management of shared knowledge. It may well be you print out various things to post and make more visible (depending on what makes sense for the work environment).
Look at All the Data and Be Wary of Unjustified Confidence
Posted on July 20, 2015 Comments (0)
Interesting interview with Richard Feynman about the NASA's space shuttle Challenge disaster. He discusses very well the problem of not thinking of all of the data and how systems produce results with variation.
"Results" are not enough to judge whether the current process is wise. He describes a child running into the street without looking that is warned by his parent and counters with the evidence that nothing happened. A child repeating this several times can think they have evidence it is not unsafe but that isn't so.
With the Challenger disaster a simple view of the data analysis problem was a failure to look at all the data – failure to look systemically. Instead they looked at just the data points where problems were seen and those problems all were not catastrophic. If, you looked at all the data, it was pretty obvious cold weather greatly increased problems and if you listened to the engineers those problems were very serious and risked catastrophic results.
Applying Improvement Concepts and Tools to Your Daily Life
Posted on July 7, 2015 Comments (2)
This month the ASQ Influential Voices is taking a bit different approach. This month we are looking at applying quality tools in our personal life based on the post from other influential voice, Sunil Kaushik: How Lean Helped Me Travel To Egypt With Just $500.
Sunil is on a nomadic trip around the world to learn and enjoy the experience while also helping others applying lean thinking.
I just returned from my own nomadic adventure.
I have experience applying quality tools since I was a kid being guided by my father. Another influential voices author, that I met in Hong Kong when I presented a a Deming seminar, included a mention of that connection in his post: Quality Life and Succession.
In this blog I write about using management improvement thinking in my personal life. That extends from management concepts such as optimizing the entire system and not getting trapped by habit or convention, for example in: The Aim Should be the Best Life – Not Work v. Life Balance.
My father applied these ideas in our family life and so naturally they formed my way of thinking. At the core was a focus on experimentation and focusing on what was important. It is easy to spend a lot of time on things that really are not that important and questioning if the actions we are taking is really what we should be doing based on the most important aims was a natural part of how we thought growing up. In order to experiment effectively you need to be able to understand data and draw appropriate conclusions (post on an experience with my father as a child: Playing Dice and Children's Numeracy).
Also we would look at what wasn't giving the results we desired and experiment on how to improve. I include in "results" the happiness or frustration the process causes (so as a kid this was often the frustration my brother and I had in doing some task we didn't want to do – cleaning our room, doing homework etc. and the frustration our parents felt at having to continually bring us back onto task). Much of this effort amount to setting the understanding and incentives and process to get better results (both the end results and increasing happiness and reducing frustration of all of us in the family).
A concept I use a good deal in my personal thinking on a more concrete level is mistake proofing (or at least mistake making less easy). Many people do this, without really thinking that is what they are doing. But by thinking of it consciously I find it helps you design processes to be most effective.