Curious Cat 5th Annual Management Blog Review – Part 1
Posted on December 26, 2012 Comments (3)
This is the 5th year in which multiple management blogs have participated in reviewing the year in management blogging. Once again we have many great blogs reviewed. Each year a few blog authors stop, or nearly stop publishing, but each year more great new management blogs start.
Here are links to the reviews that have been posted so far with the number of years each author has participated in the annual review.
| Years | Author of blog | blogs reviewed |
| --- | --- | --- |
| 5 | Kevin Meyer, Evolving Excellence | Edit Innovation and TimeBack Management |
| 4 | Dan Markovitz, TimeBack Management | Evolving Excellence and Brad Power on HBR blog |
| 3 | Tanmay Vora, QAspire | HR Bartender, Jamie Flinchbaugh and Seth Godin |
| 3 | Mark Hamel, Gemba Tales | Old Lean Dude |
| 2 | Tim McMahon, A Lean Journey | Curious Cat Management Improvement Blog, encob blog and Kaizen Notebook |
| 2 | Matt Wrye, Beyond Lean | Lean Blitz and My Flexible Pencil |
| 1 | Michel Baudin | Gemba Panta Rei, Lean Edge and Lean Reflections |
| 1 | Evan Durant, Kaizen Notebook | Gemba Tales and Gotta Go Lean |
| 1 | Dragan Bosnjak, encob blog | Gemba Coach and The Lean Edge |
| 1 | Scott Rutherford, Square Peg Musings | Fridge Magnets |
Customers
Posted on December 12, 2012 Comments (9)
Customer focus is critical to succeed with management improvement efforts. Few argue with that point, though my experience as a customer provides plenty of examples of poor systems performance on providing customer value (usability, managing the value stream well, etc.).
At times people get into discussion about what counts as a customer. Are customers only those who pay you money for a product or service? What about internal customers? What about users that don't pay you, but use your product (bought from an intermediary)? What about users that use a service you provide for free (in order to make money in another way, perhaps advertising)? What about "internal customers" those inside your organization without any payment involved in the process?
I find it perfectly fine to think of all these as customers of slightly different flavors. What is important is providing what each needs. Calling those that actually use what you create users is fine, but I think it often just confuses people rather than adding clarity, but if it works in your organization fine.
To me the most important customer focus is on the end users: those that derive value from what your organization provides. If there is confusion between various customer groups it may be helpful to use terms like end user, but really using the term customer for a wide range or customers is fine (and modification such as internal customer to provide some clarity).
Using Incentives to Guide Social System Improvements
Posted on December 5, 2012 Comments (2)
When confronted with the challenge of managing a social system (or market) I like to find ways to use a few simple rules that will guide the system to find improvements. I favor allowing participants in complex social system to determine how to adapt. So I support, for example, a carbon taxes where the market can decide where it is most effective to invest to reduce carbon use (both to reduce our depletion of the resource and to reduce pollution leading to climate change).
I like to try and keep prescription rules as limited as possible and instead set simple rules that will allow people to make choices. These rules will often allow for people to judge when they need to temper the extremes (in management examples) and in economic situations they often can have costs that escalate as the system is strained (so low pricing if the road is currently not heavily used and increasing the cost to users as congestion increases). The more prescriptive the rules the less ability people have to find creative solutions.
Traffic congestion is a perennial problem with high very costs to society. I very much like congestion pricing. You set a rule that puts increasing costs on those creating an overload on the system (which has costly negative externalities). Then allow people to figure out how to adapt.
The video also provides a very good example of why leadership is important. In Stockholm people were against congestion pricing (70% to 30%). This isn't surprising they see a new tax that only is a cost. They don't understand that the system performance is going to improve – the cost will provide a benefit. Leadership is required to push forward when the benefits are not obvious to everyone. Once people saw that congestion was greatly decreased 70% supported congestion pricing.
Jonas Eliasson: "Don't tell people how to adapt. Nudge them. If you do it correctly – they'll embrace the change"
Related: The Case for Physically Separated Bike Lanes – Urban Planning in Northern Virginia – Disregard for People by FedEX and UPS – Systems thinking allowed the engineers to design a solution that wasn't about enforcing the existing rules more but changing the system so that the causes of the most serious problems are eliminated. – Using Outcome Measures for Prison Management
Management Improvement Blog Carnival #183
Posted on December 2, 2012 Comments (0)
The Curious Cat Management Carnival is published twice each month. The posts selected for the carnival focus on the areas of management improvement I have focused on in the Curious Cat Management Improvement Guide since 1996: Deming, innovation, lean manufacturing, customer focus, leadership, six sigma, respect for employees…
How to Accelerate Quality Management Practices
Posted on November 21, 2012 Comments (1)
For world quality month, Paul Borawski selected the topic of accelerating quality for discussion by ASQ's Influential Voices. He specifically asks: what can we do to accelerate the rate of adoption of quality?
As far as what ASQ can do I have the same thought I have had for 10 years. ASQ can make the articles and reports that members contributed available openly over the internet. ASQ currently greatly restricts the sharing and adoption of quality ideas by placing that content behind paywalls.
I do not support restricting access to material on how to spread the adoption of quality. That is a mistake. It has been a mistake for over a decade and should have been changed long ago. Positive action should be taken to demonstrate the words about promoting the adoption of quality methods are more than just empty words. I have discussed my thoughts on associations and journals failing to adapt to the internet occasionally: ASQ has a long way to go in promoting quality, Science Journal Publishers Stay Stupid, Science Commons: Making Scientific Research Re-useful.
What can quality management professionals do?
I certainly do not believe people should be publishing good quality management content to publishers who hide the content behind paywalls. I would encourage those publishing quality management content to do it in an open manner and not using publications that are closed (paywall, registration wall or any form of a wall restriction the sharing of ideas). Tell the closed publishers you will publish with them once they demonstrate their commitment to open access.
Also continuing to learn and apply the best management ideas are the keys for making a difference. People like Dr. Deming and Dr. Ackoff continued to learn well into their 80s. Their thirst for knowledge and ways to improve drove continually improvement. Following this example will be a great step. And at the same time continue to apply these ideas. There are often lots of challenges to actually getting our organizations to improve. What is needed is more leaders to push for continual improvement.
Organizations often have lots of innertia behind outdated practices. Encouraging the adoption of quality management practices often requires a great deal of effort to get the defenders of the status quo to allow improvement to take place. It takes a great deal of perseverance. The biggest barrier to improvement is innertia.
Related: Increase Your Circle of Influence – Learn Lean by Doing Lean – Growing the Adoption of Management Improvement Ideas in Your Organization
Management Improvement Blog Carnival #182
Posted on November 18, 2012 Comments (1)
The Curious Cat Management Blog Carnival has been published since 2006. The carnival, published twice a month, links to great, recent, management blog posts. I hope you find these post interesting and find some new blogs to start reading. Follow me online: Google+, Twitter and elsewhere.
Business 901 Podcast with Me: Deming's Management Ideas Today
Posted on November 13, 2012 Comments (6)
I recently was interviewed for a podcast by Joe Dager, at Business 901: Dr. Deming on Lean in 2012. I hope you enjoy the podcast.
Here are some links related to items I mention in the podcast:
Some blog posts that expand on some points I made in the podcast:
Respect for Everyone
Posted on November 7, 2012 Comments (7)
TL;DR – The two pillars of the Toyota Way are: respect for people and continuous improvement.
One of the big reasons my career followed the path it did (into management improvement) was due to the impact of respect for people. My father was a professor (in statistics, engineering and business) and consulted with organizations to help them achieve better results. To achieve results he took advantage of the gains possible when using statistical tools to manage with respect for people.
Managing Our Way to Economic Success: Two Untapped Resources, 1986: "American organizations could compete much better at home and abroad if they would learn to tap the potential information inherent in all processes and the creativity inherent in all employees."
After he died, for years, people would talk to me about the difference he made in their lives (at conferences mainly). Other than those with PhD's in statistics (of which there were many, but a very small number compared to all the others) the thing that made a difference was respect for people. Those who chose to talk to me are obviously a self selected group. But of those, the people that made the largest impact on me basically said he talked to me as though everything I said mattered. He didn't talk down to me. He helped me see how I could help improve: the organization and my own skills and abilities.
This didn't happen 5 times or 10 times of 20 times, it happened many more times than that. Year after year of this helped push me to stick with management improvement. These served as a great incentive to perserve as I ran into the typical difficulties actually improving management systems.
The senior executives he talked to were not very impressed that he spoke to them with respect. So none mentioned that with awe, but a few did notice that he was able to connect with everyone – the senior executives, nurses, people on the factory floor, secretaries, salespeople, front line staff, engineers, janitors, middle managers, doctors, union leaders. The senior executives were more likely to be impressed by the success and his technical ability and knowledge as well as communication skill. Doctors, statisticians and engineers were more impressed with knowledge, technical skill, skill as a teacher and advice.
Management Improvement Blog Carnival #181
Posted on November 1, 2012 Comments (1)
The Curious Cat management blog carnival is published twice a month: with hand picked recent management blog posts. I also publish a collection management improvement articles on the Curious Cat Management Articles site.
Going Beyond Quality Makes No Sense – There is No Border to Move Beyond
Posted on October 24, 2012 Comments (1)
This month, Paul Borawski selected the topic of going beyond the traditional quality function for discussion by ASQ's Influential Voices.
I don't pay much attention to the tradition role for quality. Dr. Deming's ideas, for well over half a century, have emphasized the importance of improving the entire management system and the entire enterprise. That systems view is the way I think and act.
When a quality office exists that office has a role to play within the system. So, the quality department might be responsible for things like helping keeping track of internal process measures (control charts etc.), responding to whatever some executive decides to focus on (they don't like the rate of warranty expenses, or bugs in the software, or something), etc.
I have no problem with a quality department providing expertise on process management, helping people use quality tools, providing guidance on modern management methods etc. But limiting a quality department to whatever is considered traditional quality (maybe reducing defects, quality assurance, and the like) is an idea that is over half a century out of date, in my opinion. I was part of a quality office at the Office of Secretary of Defense Quality Management Office. The role of such offices is to support and increase the speed of adoption of better management practices to improve results.
Process Thinking: Process Email Addresses
Posted on October 18, 2012 Comments (1)
This is just a simple tip. When providing email address think about what the purpose is. If it is to contact a specific person then an individual's email address makes sense. But if you are really emailing the software testing manager then it may well make sense to provide people the email address software_testing_manager@
Essentially, I think it is often sensible to break out email addresses for specific functions or processes. Then the email address can just be routed to whoever is suppose to handle those emails. And as your responsibilities shift a bit, those you no longer do can be shifted to someone else and you start getting your new emails. Another nice (I think so anyway) side affect is your various roles are made more concrete. Often it seems who really is responsible is unclear, if you have 5 email address that Jane handled before she left it will be obvious if only 4 of them have been reassigned that 1 has not. Granted such a thing should be obvious without this email tip-off but given how many organizations really operate failing to assign all of someone's responsibilities to someone when they leave is more common than you would hope.
It is also nice because, if their is a reason it is helpful, those emails can automatically go to as many people as desired. Also if the manager goes on vacation for 2 weeks, the emails can be sent also to the person filling in for them until they return.
Another benefit is a manager, or whoever, can take a quick dip into the email traffic to get a sense of what is being requested. Another benefit (depending on the way it is implemented) can be to have all the software_testing_manager@ emails and responses associated with that email so if you are given that responsibility you can view historical response.
If our knowledge management (wikis, or whatever) solutions were great this would be less important (though still probably valuable) but often the email history may have the best record of our organization knowledge on a topic. When it is spread about in a bunch of individuals mail boxes it is often essentially lost.
It is a small think but this bit of process thinking I have found helpful.
Related: Management By IT Crowd Bosses – Software Supporting Processes Not the Other Way Around – Encourage Improvement Action by Everyone – Delighting Customers
Management Improvement Blog Carnival #180
Posted on October 15, 2012 Comments (1)
The Curious Cat Management Carnival is published twice each month. The posts selected for the carnival focus on the areas of management improvement I have focused on in the Curious Cat Management Improvement Guide since 1996: Deming, lean manufacturing, customer focus, six sigma, systems thinking, respect for employees…
The W. Edwards Deming Institute Blog
Posted on October 11, 2012 Comments (0)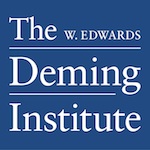 I am authoring the new W. Edwards Deming Institute Blog. Make sure you subscribe to the Deming Institute blog's RSS feed if you want to keep up with my posts there.
Some of the posts so far:
I will continue posting to this blog (the Curious Cat Management Improvement Blog): subscribe to the RSS feed for this blog.
Related: My New Book, Management Matters – ASQ Influential Voices – John Hunter online
Double Loop Learning Presentation by Benjamin Mitchell
Posted on October 8, 2012 Comments (0)
Benjamin Mitchell – Using the Mutual Learning Model to achieve Double Loop Learning from Agileminds.
Benjamin Mitchell presents ideas using Chris Argyris thinking on double-loop learning. "Double-loop learning occurs when error is detected and corrected in ways that involve the modification of an organization's underlying norms, policies and objectives."
Single loop learning is basically to just try again using the same understanding, thinking and tactics. It is understood that the results were not what was desired so we will try again, but the supporting system is not seen as the reason results were not the desired results. Double loop learning is when the result leads to questioning the system and attempting to adjust the system and make changes and experiment to learn to be able to create systems that get better results.
Argyris: people will blame others and the system when their actions seem to differ from their espoused proper actions. (I see this as similar to the idea of revealed preference versus stated preference: revealed actions versus stated actions – John)
Related: People are Often Irrational – Double Loop Learning in Organizations
by Chris Argyris – Theory of knowledge – Rethinking or Moving Beyond Deming Often Just Means Applying More of What Dr. Deming Actually Said
Special Cause Signal Isn't Proof A Special Cause Exists
Posted on October 3, 2012 Comments (0)
One of my pet peeves is when people say that a point outside the control limits is a special cause. It is not. It is an indication that it likely a special cause exists, and that special cause thinking is the correct strategy to use to seek improvement. But that doesn't mean there definitely was a special cause – it could be a false signal.
This post relies on an understand of control charts and common and special causes (review these links if you need some additional context).
Similarly, a result that doesn't signal a special cause (inside the control limits without raising some other flag, say a run of continually increasing points) does not mean a special cause is not present.
The reason control charts are useful is to help us maximize our effectiveness. We are biased toward using special cause thinking when it is not the most effective approach. So the control chart is a good way to keep us focused on common cause thinking for improvement. It is also very useful in flagging when it is time to immediately start using special cause thinking (since timing is key to effective special cause thinking).
However, if there is result that is close to the control limit (but inside – so no special cause is indicated) and the person that works on the process everyday thinks, I noticed x (some special cause) earlier, they should not just ignore that. It very well could be a special cause that, because of other common cause variation, resulted in a data point that didn't quite reach the special cause signal. Where the dot happened to land (just above or just below the control limit – does not determine if a special cause existed).
The signal is just to help us systemically make the best choice of common cause or special cause thinking. The signal does not define whether a special cause (an assignable cause) exists of not. The control chart tool helps guide us to use the correct type of improvement strategy (common cause or special cause). But it is just a signaling device, it isn't some arbiter of whether a special cause actually exists.
Management Improvement Blog Carnival #179
Posted on October 1, 2012 Comments (0)
The Curious Cat Management Blog Carnival has been published since 2006. The carnival links to great management blog posts; it is published twice a month. I hope you find these post interesting and find some new blogs to start reading. Follow me online: Google+, Twitter and elsewhere.
Seminar in Singapore: Deming's Philosophy of Management
Posted on September 25, 2012 Comments (0)
The local partner cancelled the seminar, therefore I have deleted the post.
Build Systems That Allow Quick Action – Don't Just Try and Run Faster
Posted on September 21, 2012 Comments (4)
This month Paul Borawski (CEO of ASQ) has asked the ASQ Influential Voices to share their thoughts on the cries for "faster, faster, faster" that so often is a refrain heard today.
I have long said that the measure of management improvement isn't only about improving. It is the speed at which the management system and internal processes are being improved. Improvement is a given. If an organization is not improving every year the odds of long term success is low.
One of the common objections to a need for improvement is that we are doing fine and we are improving (so leave us alone we are already improving). That is better than not doing fine and not improving but it isn't a reason to be complacent. Managers should be continually pushing the improvement acceleration higher.
The biggest problems I see with a focus on being faster are attempting move faster than the capability of the organization and falling back on working harder as a method to achieve the faster action. Really these are the same issue – working harder is just a tactic to cope with attempting to achieve better results than the system is capable of.
Agile software development has a principle, sustainable development, which is a reaction to the far too common attitude of management to just have software developers work longer and longer hours to meet targets. Any attempt to be faster internally or respond to a faster marketplace should first put the principle of sustainable workload as a requirement. And next build the capability of the enterprise to respond quickly and keep increasing how quickly it can respond effectively.
The well know management improvement concepts, practices and tools will lead an organization to improve that capability reliably, sustainable and continuously.
My new book, Management Matters: Building Enterprise Capability, delves into how to manage an enterprise based on the ideas needed to apply management improvement concepts, practices and tools to achieve results, including, but not limited to, faster.
Related: Process Improvement and Innovation – Find the best methods to produce the best results over the long term – Think Long Term Act Daily
Management Improvement Blog Carnival #178
Posted on September 16, 2012 Comments (2)
The Curious Cat management blog carnival is published twice a month: with hand picked recent management blog posts. I also collect management improvement articles for the Curious Cat Management Articles site.
Disruptive Management by Bill Waddell – "The professional management experts break the fundamental rule of lean – they miss Dr Deming's essential point. Failure is ascribed to personal failing, rather than flawed processes."
Amazon's Play by John Gruber – "What he's [Bezos] done that is Jobs-like is doggedly pursue, year after year, iteration after iteration, a vision unlike that of any other company — all in the name of making customers happy."
The absurdity of the 40 hour workweek by Dan Markovitz – "Even if you're not a plumber or a lawyer, there's a tendency to focus on the amount of time you spend on a project and what the output is."
Metrics in Lean – Deming versus Drucker by Michel Baudin – Deming "thought MBO was a bad idea and he would not pussyfoot. 15 years later, Drucker himself came around to the same point of view and recognized that MBO had failed." [also many comments on the post are interesting – John]
5s at NASA
Posted on September 11, 2012 Comments (1)
NASA did some amazing things culminating with landing on Moon. Much of what they did was doing many small things very well. They used 5s, checklists, gemba thinking, usability, simplicity, testing out on a small scale and much more.
Here are a few photos from the Smithsonian Air and Space museum in Washington DC. I also have some nicer NASA 5s photos from the new Annex near Dulles Airport, but, ironically, I can't find them.
These kits were used by NASA astronauts on the Apollo 11 mission to the moon. Obviously NASA had to have everything that might be needed where it was needed (picking up something from the supply closet in building 2 wasn't an option).